Now we achieved our goal of Bringing The Bulls Back to Bradford, we are now setting our sights on being able to offer local businesses much improved benefits as we seek to build better connections with all those around us.
Business will be able to opt for a Bronze, Silver or Gold package whilst at the same time, being able to offer our loyal Season Ticket holders some fantastic incentives to drive business back to themselves.
The Bull Ring represents the reciprocal benefits for all three parties involved. The club benefits from businesses opting into 'The Bull Ring', businesses will strengthen from increased exposure and a range of fantastic benefits and Season Ticket holders will be eligible for a range of incentives at all 'The Bull Ring' businesses listed in the directory.
The Bull Ring is all about supporting local businesses as well as rewarding our loyal supporters. Details regarding each package can be found below:-
Bronze - £20 per month + VAT
Silver - £30 per month + VAT
Gold - £50 per month + VAT
All businesses will appear in the Business Directory along with their offers and a link to their own website.
Alongside business exposure on a website that receives over 1.4 million hits per year, we are delighted to offer a range of fantastic benefits, from discounted tickets to money-can't-buy experiences!

The full list of benefits can be found in the below matrix, which also lists which packages the benefits are eligible for.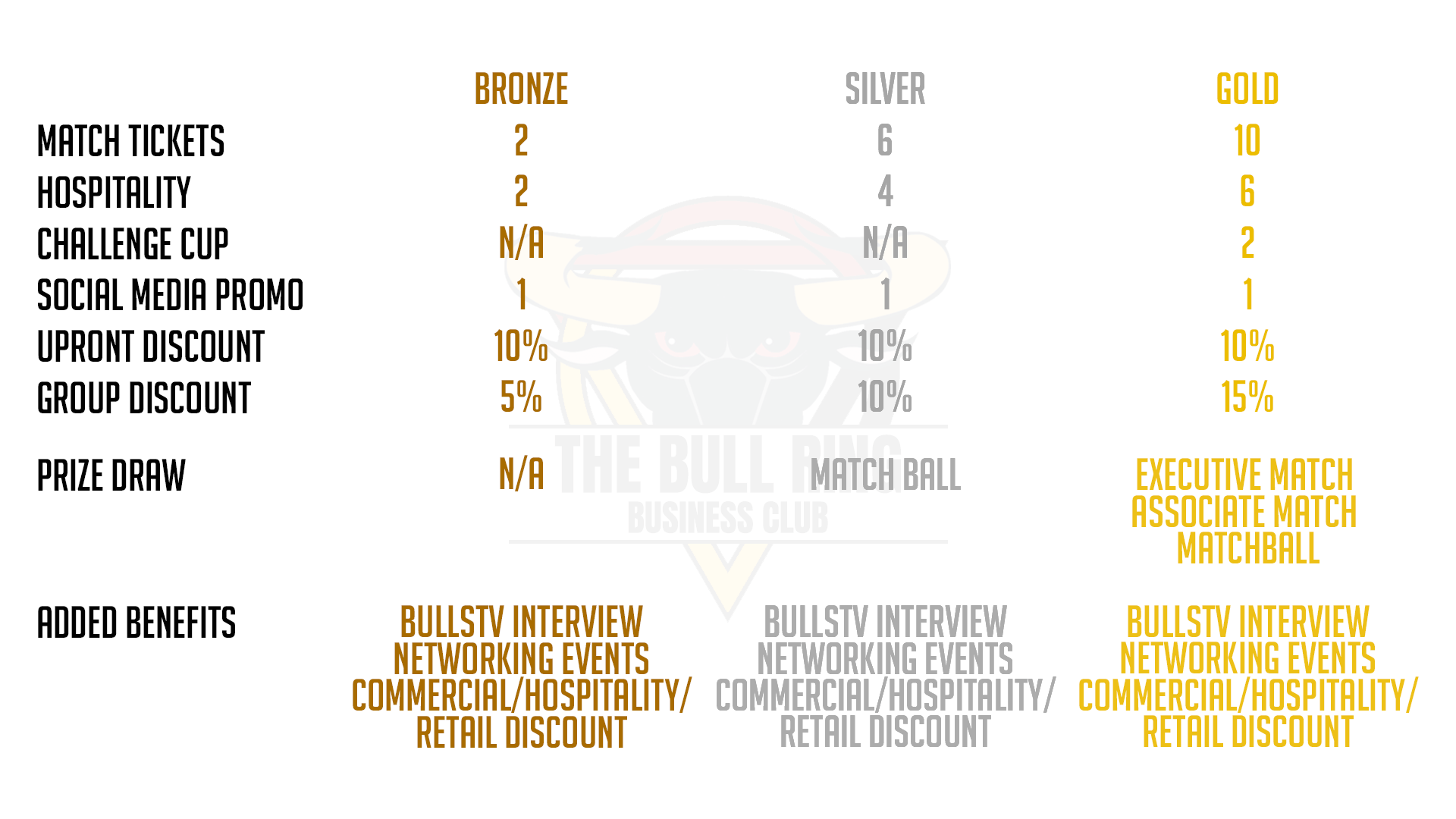 If you would like more information or wish to speak to a member of our team in person, you can email joe.pitts@bradfordbulls.co.uk or call 0333 323 5075.