7 May 2021
WOMEN'S SQUAD ANNOUNCEMENT AND SEASON UPDATE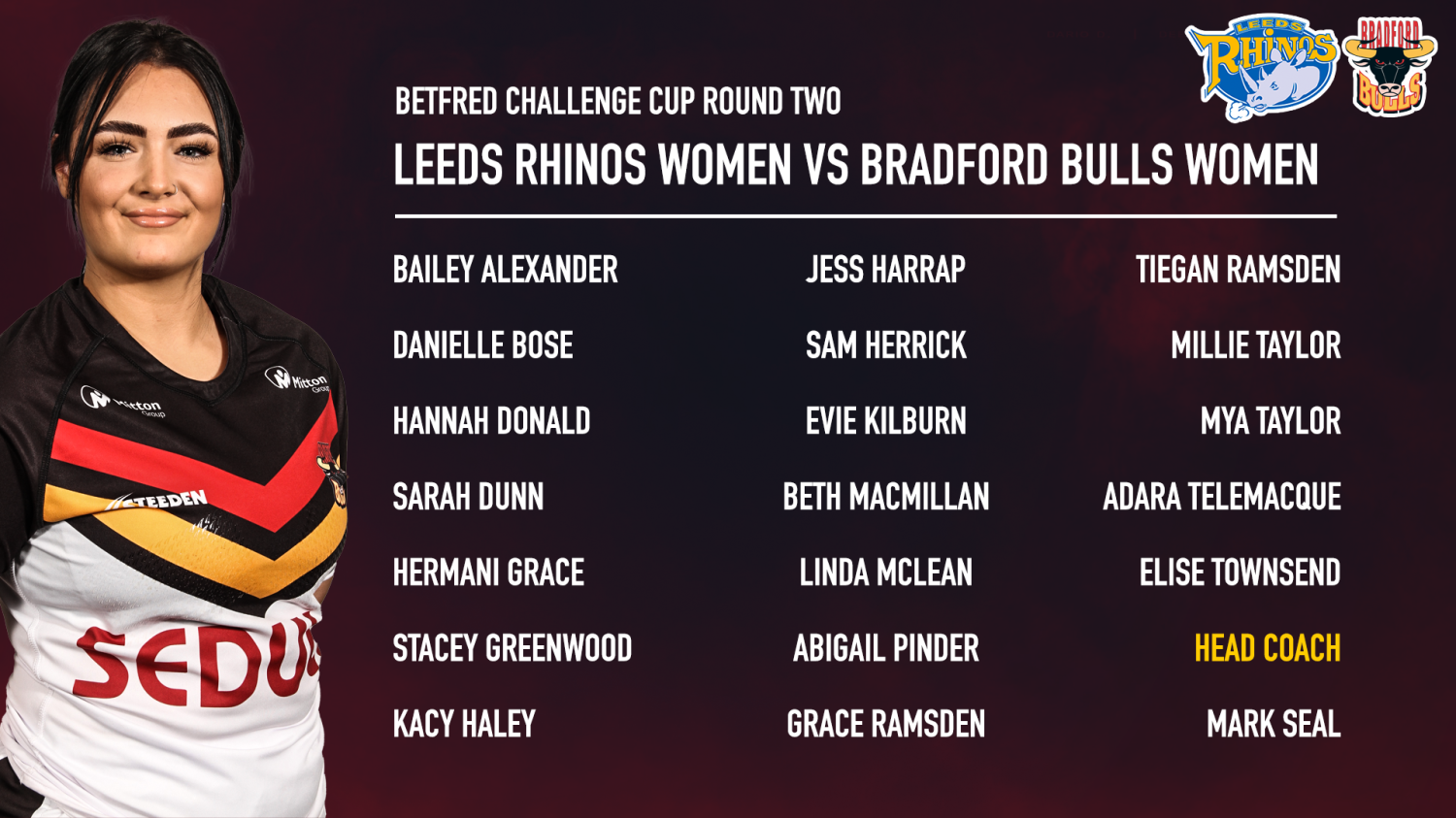 HEAD Coach Mark Seal has named his squad for this weekend's West Yorkshire derby - whilst offering an update on his side's start to the season!
Bailey Alexander - Sponsored by the Harry Sykes Fund
Danielle Bose - Sponsored by The Pride Gym / The Watkinson and Boddy Family
Hannah Donald - Sponsored by Suzy Donald
Sarah Dunn - Sponsored by the Bradford Northern/Bulls Ex-Players Association
Hermani Grace - Available For Sponsorship
Stacey Greenwood - Sponsored by Bull-Tech Solutions
Kacy Haley - Sponsored by Underwood Recycling
Jess Harrap - Sponsored by TekFlooring
Sam Herrick - Available For Sponsorship
Evie Kilburn - Available For Sponsorship
Beth Macmillan - Sponsored by Morley Glass
Linda McLean - Sponsored by CSM Stanley
Abigail Pinder - Available For Sponsorship
Grace Ramsden - Sponsored by Aqua Rod Lista Drain UK
Tiegan Ramsden - Sponsored by Yorkshire Fleet Services
Millie Taylor - Sponsored by The Gym Doctor 365
Mya Taylor - Sponsored by WalkServ
Adara Telemacque - Available For Sponsorship
Elise Townsend - Sponsored by Apeture Installations
-
So this weekend sees us take on Leeds Rhinos in the Betfred Women's Challenge Cup, in what will be a physical and fast encounter.


As we have lifted our social media presence this year, we've gained new followers & fans, that have still unfortunately been unable to see the women in action, so I'd like to take the opportunity now we're into the season, to let the Bulls faithful know where we are at as a team and our immediate aims.

We are a primarily a new group of young players, with us, as coaching staff taking a long term approach, looking at 2/3 years to build a quality squad, with sustainable foundations below and start to reap the rewards.

As some of you might be aware, ourselves and a handful of other teams have been on the end of some blowout score lines.


To put these into context, in our first game against St. Helens, we had 6 girls making their Superleague debuts after only a handful of on field training sessions due to Covid restrictions, whilst the opposition had 10 England internationals in the line up who had been able to train together throughout lockdown under the "Elite" banner.

This split of "haves" & "have nots" is plain to see, looking at the league table.

We have subsequently picked up long term injuries to a number of our starting lineup & then to further compound things, I was informed on Tuesday that 2 of our players that are on the fringe of England selection, have now signed for York, after being offered incentives that the Bulls cannot possibly compete with. It would appear a number of players from other Superleague clubs have also had players signed by York.

Whilst this is legal under the current Women's Superleague frame work , to have teams squads cherry picked 2 games into the season, does not sit well with me at all.

Just looking at score lines alone, doesn't truly reflect on where we are at as a squad.

Putting all that aside, we do have a quality set of half backs that are surrounded by some really exciting young prospects, that with a few games under their belts and with the team gelling together will start to get the results they deserve.

As for Sunday, we had our final session last night, the women are in great spirits, fired up & raring to go.

And I know, from 1-17, they will take to the field full of pride and passion and aim to get the job done.

After all if a Rhinos v Bulls derby doesn't fire you up, what will!

#WeAreOne