5 Apr 2021
OPENING DAY DEFEAT IN DONCASTER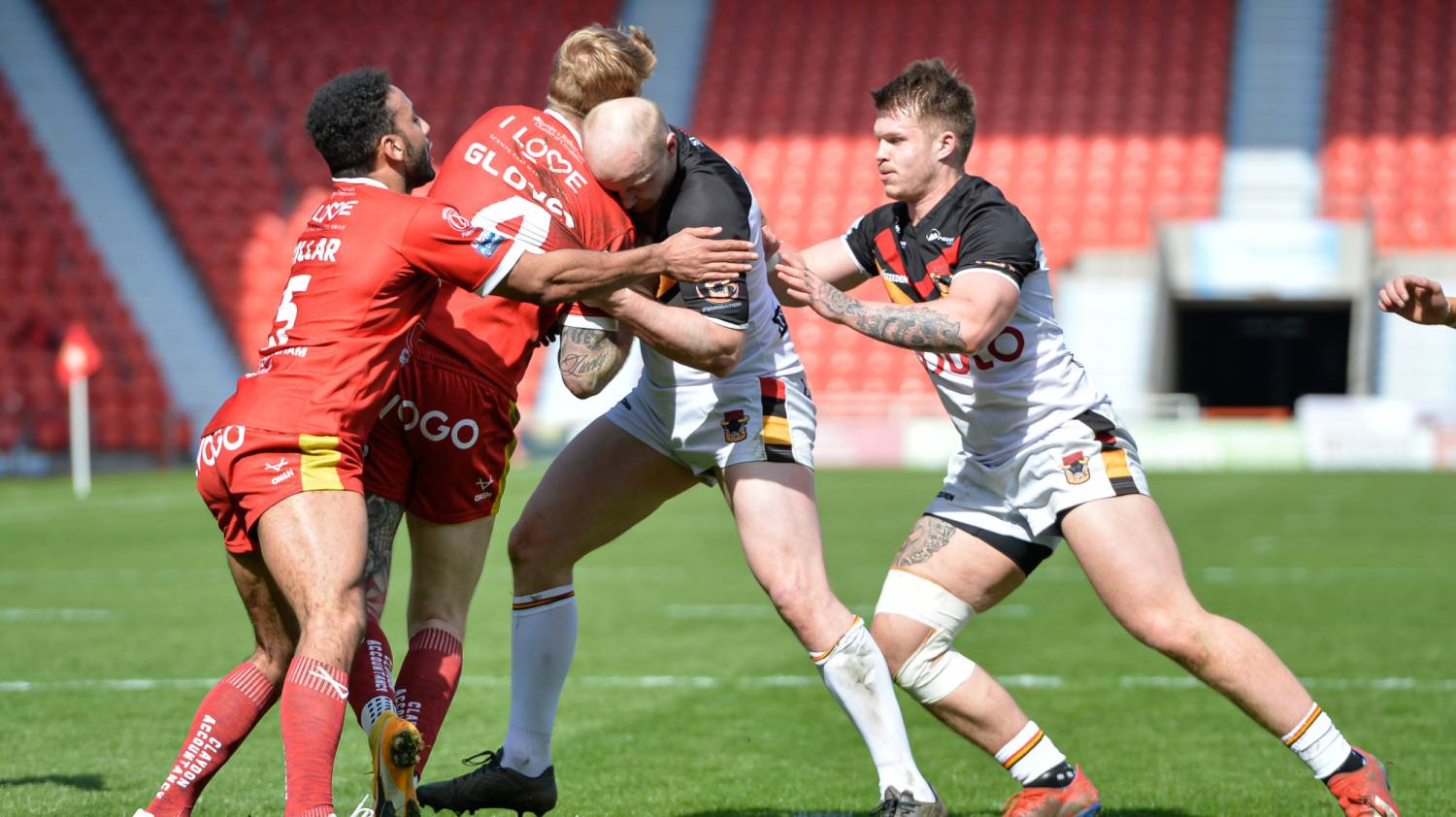 BRADFORD Bulls fell to a 50-12 defeat at the hands of a rampant Sheffield Eagles yesterday afternoon in Round One of the Betfred Championship.
Quick-fire scores from Aaron Brown and Josh Guzdek handed the home side an early lead – with the former grabbing his second midway through the first half.
Joel Farrell barged over in the middle of a James Glover double as the Eagles went into the break with a healthy advantage.
Izaac Farrell got in on the act before tries from Adam Rooks and Joe Brown brought the Bulls onto the scoring ledger.
Anthony Thackeray went back-to-back before Ryan Millar's late score added the gloss to the Eagles' afternoon.
Head Coach John Kear handed debuts to Billy Jowitt, Aaron Murphy and newest recruit Ben Evans following his arrival from Toulouse Olympique.
Bradford enjoyed early possession on the Sheffield line but the hosts' first foray into away territory saw them break the deadlock – with a bouncing ball finding its way into the hands of Brown.
Sheffield's next trip into the Bradford half reaped the same rewards with Guzdek making his way through the visitors' line.
Thackeray's chip over the top then bounced perfectly for Brown to get his second – before Glover barged his way over from close range.
Joel Farrell was the beneficiary of a break before Glover raced onto the end of a Thackeray punt on the hooter and touched down.
Despite visible improvement from the visitors after the break, it would be the home side to further add to their advantage through Izaac Farrell.
Bradford scored their first league points of the campaign through Rooks, who burst onto a short pass from Danny Brough and couldn't be stopped close to the Sheffield line.
Kear's men went back-to-back when a break by debutant Jowitt set up Joe Brown to race away.
But with Bradford pressing for a third, Thackeray ran the length of the field for an interception score before grabbing his second soon after.
Millar then raced clear in the closing stages to condemn the Bulls to defeat in the opening round.
SHEFFIELD EAGLES
TRIES – Brown (2), Guzdek, Glover (2), J Farrell (2), I Farrell, Thackeray (2) Millar.
GOALS – I Farrell 4/10 Glover 1/1
SHEFFIELD EAGLES - Josh Guzdek, Rob Worrincy, Ryan Johnson, James Glover, Ryan Millar, Izaac Farrell, Anthony Thackeray, Bradley Knowles, Greg Burns, Matt James, Oliver Davies, Joel Farrell, Aaron Brown.
INTERCHANGES – James Davey, Tyler Dickinson, Blake Broadbent, Paddy Burns.
BRADFORD BULLS – Joe Brown, Reece Hamlett, Rhys Evans, Ross Oakes, Jack Sanderson, Brandon Pickersgill, Danny Brough, Dan Fleming, Thomas Doyle, Steve Crossley, Adam Rooks, Brad Gallagher, Aaron Murphy.
INTERCHANGES – Ben Evans, Billy Jowitt, Levy Nzoungou, Ebon Scurr.
TRIES – Adam Rooks, Joe Brown
GOALS – Brough 2/2