14 Feb 2021
2021 BETFRED CHAMPIONSHIP FIXTURES ANNOUNCED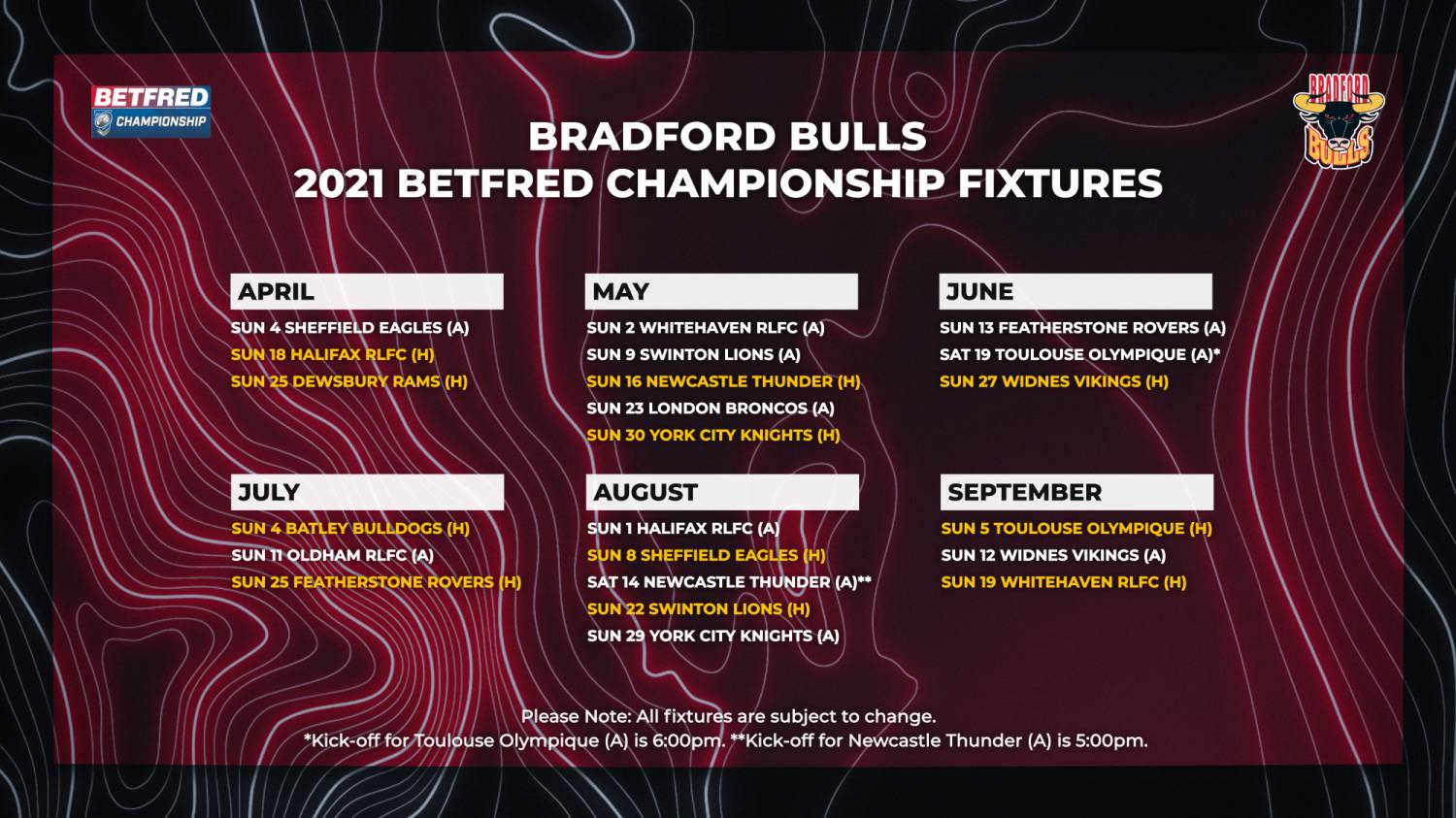 WE are delighted to reveal our fixtures for the 2021 Betfred Championship season!
Our domestic season gets underway with a trip to the Keepmoat Stadium on Sunday 4th April to take on Mark Aston's Sheffield Eagles.
Round Two sees a mouthwatering rivalry resumed with Halifax RLFC our first opponents at the Tetley's Stadium - with the reverse fixture taking place on Sunday 1st August at The Shay Stadium.
Betfred Championship newcomers Newcastle Thunder are the visitors in Round 6 on Sunday May 16th - before the Bulls travel to Kingston Park on Saturday 14th August (5pm Kick Off).
There will be no Golden Point extra time in 2021 - with the ruling to be re-introduced in 2022.
The Summer Bash will also not feature this year as a result of the restrictions that are expected to be in place for some time yet.
2021 Full Fixture List
| | | | | | |
| --- | --- | --- | --- | --- | --- |
| RD | DATE | OPPONENT | VENUE | HOME/AWAY | LOCAL TIME |
| 1 | Sunday, Apr 4 (CHA) | Sheffield Eagles | Keepmoat Stadium | Away | 3pm |
| 2 | Sunday, Apr 18 (CHA) | Halifax | Tetley's Stadium | Home | 3pm |
| 3 | Sunday, Apr 25 (CHA) | Dewsbury Rams | Tetley's Stadium | Home | 3pm |
| 4 | Sunday, May 2 (CHA) | Whitehaven | Recreation Ground | Away | 3pm |
| 5 | Sunday, May 9 (CHA) | Swinton Lions | Heywood Road | Away | 3pm |
| 6 | Sunday, May 16 (CHA) | Newcastle Thunder | Tetley's Stadium | Home | 3pm |
| 7 | Sunday, May 23 (CHA) | London Broncos | TBC | Away | 3pm |
| 8 | Sunday, May 30 (CHA) | York City Knights | Tetley's Stadium | Home | 3pm |
| 9 | Sunday, Jun 13 (CHA) | Featherstone Rovers | Millenium Stadium | Away | 3pm |
| 10 | Saturday, Jun 19 (CHA) | Toulouse Olympique | Stade Ernest Wallon | Away | 6pm |
| 11 | Sunday, Jun 27 (CHA) | Widnes Vikings | Tetley's Stadium | Home | 3pm |
| 12 | Sunday, Jul 4 (CHA) | Batley Bulldogs | Tetley's Stadium | Home | 3pm |
| 13 | Sunday, Jul 11 (CHA) | Oldham | Bower Fold | Away | 3pm |
| 14 | Sunday, Jul 25 (CHA) | Featherstone Rovers | Tetley's Stadium | Home | 3pm |
| 15 | Sunday, Aug 1 (CHA) | Halifax | The Shay Stadium | Away | 3pm |
| 16 | Sunday, Aug 8 (CHA) | Sheffield Eagles | Tetley's Stadium | Home | 3pm |
| 17 | Saturday, Aug 14 (CHA) | Newcastle Thunder | Kingston Park | Away | 5pm |
| 18 | Sunday, Aug 22 (CHA) | Swinton Lions | Tetley's Stadium | Home | 3pm |
| 19 | Sunday, Aug 29 (CHA) | York City Knights | York Community Stadium | Away | 3pm |
| 20 | Sunday, Sep 5 (CHA) | Toulouse Olympique | Tetley's Stadium | Home | 3pm |
| 21 | Sunday, Sep 12 (CHA) | Widnes Vikings | Halton Stadium | Away | 3pm |
| 22 | Sunday, Sep 19 (CHA) | Whitehaven | Tetley's Stadium | Home | 3pm |