7 Oct 2020
THANK YOU TO OUR SPONSORS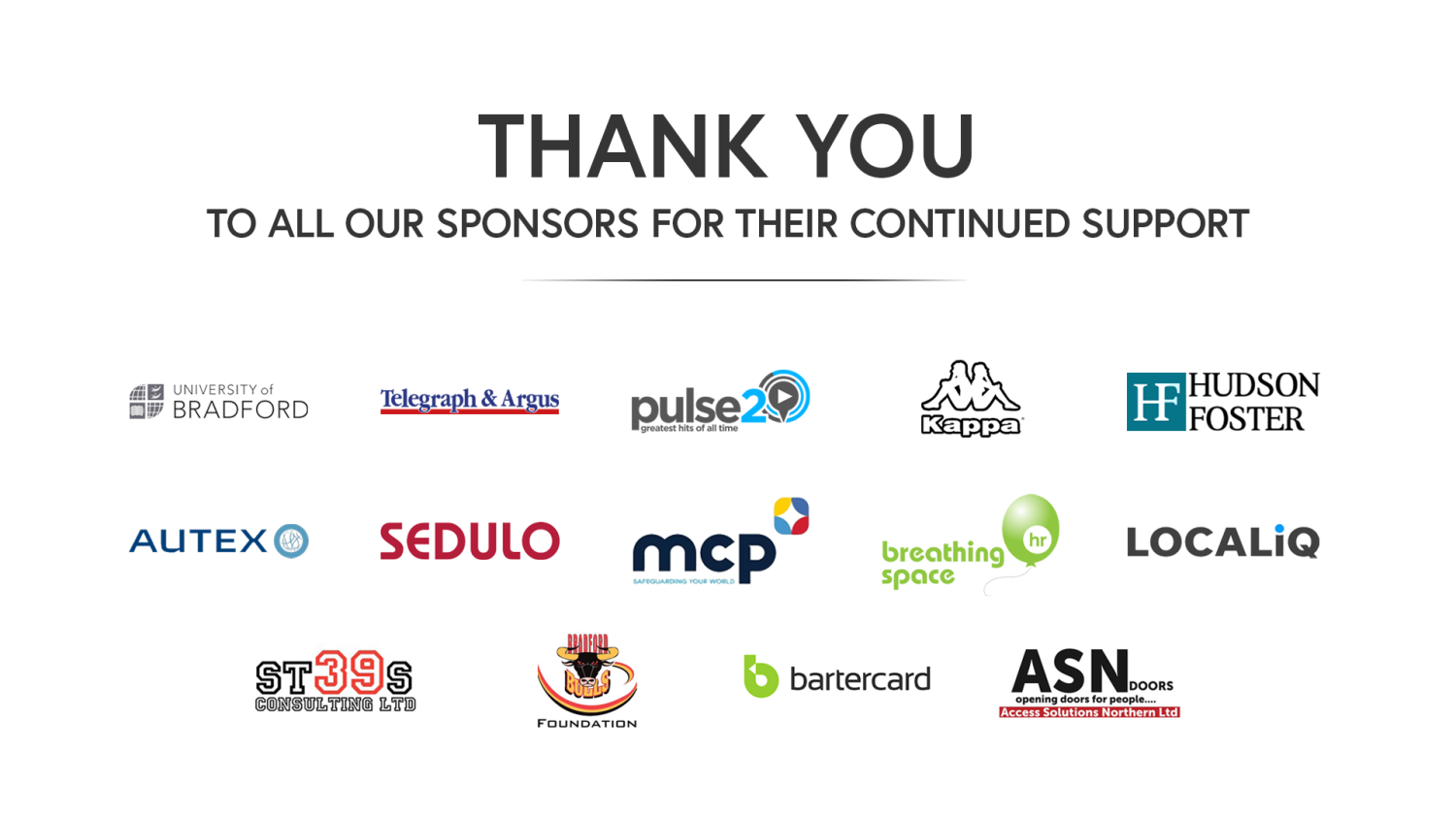 BRADFORD Bulls would like to place on record its thanks to all of our loyal sponsors - who have continued to support the club throughout the year...
Sponsorship is a vital part of the club's commercial income and the support of our sponsors with their generous donations has enabled the club to press on with plans for the 2021 campaign.
John Kear has hailed the support of fans and sponsors alike - insisting their impact has shown we are all in this together.
"The impact from the donations from both fans and sponsors has been a huge help for us not only financially but in terms of morale as well," said Kear, who is sponsored by Bradford Bulls Banter.
"Your support has really shown that everyone is in this together and behind the squad - showing we are as one as a club."
Team Sponsors

Sedulo
MCP
Hudson Foster
39 Steps Consulting
Autex Acoustics
Bartercard
ASN Doors
Kappa
LocaliQ
Telegraph and Argus
Pulse2 Radio
University of Bradford
Player Sponsors
Stuart Readyhough @ Maclean & Company, Accountants
Ruth Rider and Darren & Gareth Rider-Smith
Geoff and Maureen Hammond
Jennifer Bennison
Hudson Foster
Mary-Jo Daly
Top House
Jan Dunne
Mal and Ange Rider
BBSG / Q Gardens
Blade Access
Fab-Tek Installations
Anne Fish & Dave Green
BMG
The Monro Family
John Hazell & Willam Shepherd
Graeme Smith
Captain Hornblower, Carol and Tony
Vicki and Graeme Sharp

In memory of Sheila McCormick / Bulltech Solutions

R Fearnley Builders
Declan & Lachlan Smith
Jennifer Bennison
Paul Butterworth

BBSG / In Memory of Wynne and Norman Leadbeater

May-Jo Daly
The Pitchside Crew
Graeme Smith
K3 Cosmetic Dental Studio

J&B Travel

In memory of Dennis Trotter

Yorkshire Exhaust Specialists

Vacuum & Pressure Limited

The Erby Family

Mary Dellman
Levi Solicitors LLP

The Idle Working Mens Club

Taychel Building Solutions

Denise & Brian Barton

Blue Consultancy

The Gaping Goose & Ady Gill

CP Precision Engineering

Smith & Preston Family

Crown Cars
S & C Construction Management LTD

Trust Ford Bradford

Parkview Cars

PCX Computers
XDP
Morley VentIlation LTD
Ductwork Solutions Leeds Ltd

Bradford Bulls Banter

George Timberley, Amelia and Jayden Cuffe

Aqua Rod Lista Drain UK Ltd
Ady Gill & Dave Green
D-Tect Security

Birkenshaw BlueDogs ARLFC

CM Performance

Titan Risk Management

Birkenshaw
Robert Palmer Joinery Ltd

The Cavanaghs