1 Sep 2020
DAWSON-JONES EXTENDS BULLS STAY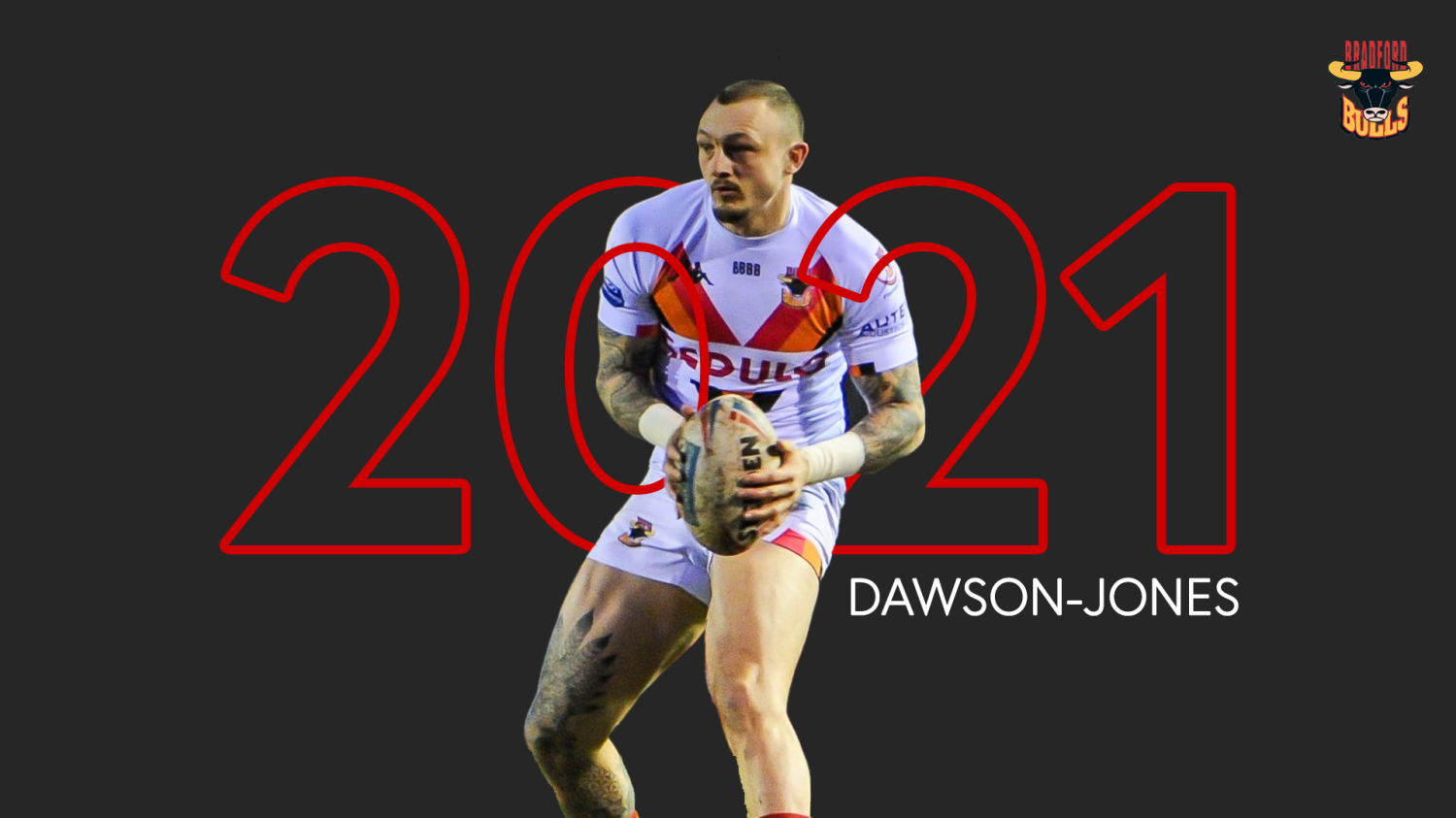 WE are delighted to announce Matty Dawson-Jones will remain a Bull in 2021 - having put pen-to-paper on a one-year extension!
The 29-year-old arrived at the club prior to the start of the 2020 season - making an instant impact notching a brace on debut against London Broncos.
A former Hull FC and Leigh Centurions star, the outside back continued his impressive start to life in red, amber and black with further scores against Featherstone Rovers and Sheffield Eagles.
Dawson-Jones has spoken of his excitement as John Kear's squad takes shape - insisting he is looking forward to another year under the Bradford boss alongside some exciting additions.
"I am made up to be staying - it was an easy decision John is a big pull in me staying as he was me coming to the club, knowing what he is as a coach and although I haven't worked with him long I have enjoyed working under him so far and am looking forward to 2021," said Dawson-Jones, who is sponsored by Declan and Lachlan Smith.
"It was a pretty easy transition coming into the club, I knew some of the boys the likes of Jordan Lilley I had played with before so they helped me integrate into the team.
"It has been a frustrating year I thought I started really well, hit the ground running and to have this sprung on us is frustrating but we have been training hard at home so we can kick on next year and John has recruited well.
"I am looking forward to playing with Broughie and [Aaron] Murphy, I have played with them both before and they are both top quality Super League players.
"It is an exciting prospect just being around players like that, it makes everyone pick their game up.
"We are ready to go and train hard and ready to hit the ground running - we will go into pre-season fitter than ever before hopefully that'll lead into being stronger and battle for promotion in 2021."
Head coach Kear admits he was keen to tie down the 'hard-working' winger - who becomes the 13th player announced in his 2021 roster.
"Matty slotted in seamlessly even though he joined so close to the start of the season, I was very keen to keep Matty for 2021 so we triggered the extension through the clause in his contract and he is happy with that," said Kear, who is sponsored by Bradford Bulls Banter.
"The fans saw his try scoring potential, even in just a few games at the start of the year but one of the other thing that really impressed me about Matty is his efforts in bringing the ball out from the back.
"He is another hard-working honest fella who goes through a great amount of work in attack and defence. If you look at his record, he is another player with a fair few games on his record and he is very durable as well, generally been injury free and he is another Super League standard player.
"He is the type of character that we need and want, his ability is Super League standard and his signing is another positive and I am very excited indeed about getting going again.
"It will not only be great to get the players out there but to have fans in the stadium, even with Social Distancing because I have attended one or two behind closed doors and although they're good, it will great to play in front of people again."