20 Aug 2020
DOYLE DEAL BOOSTS BULLS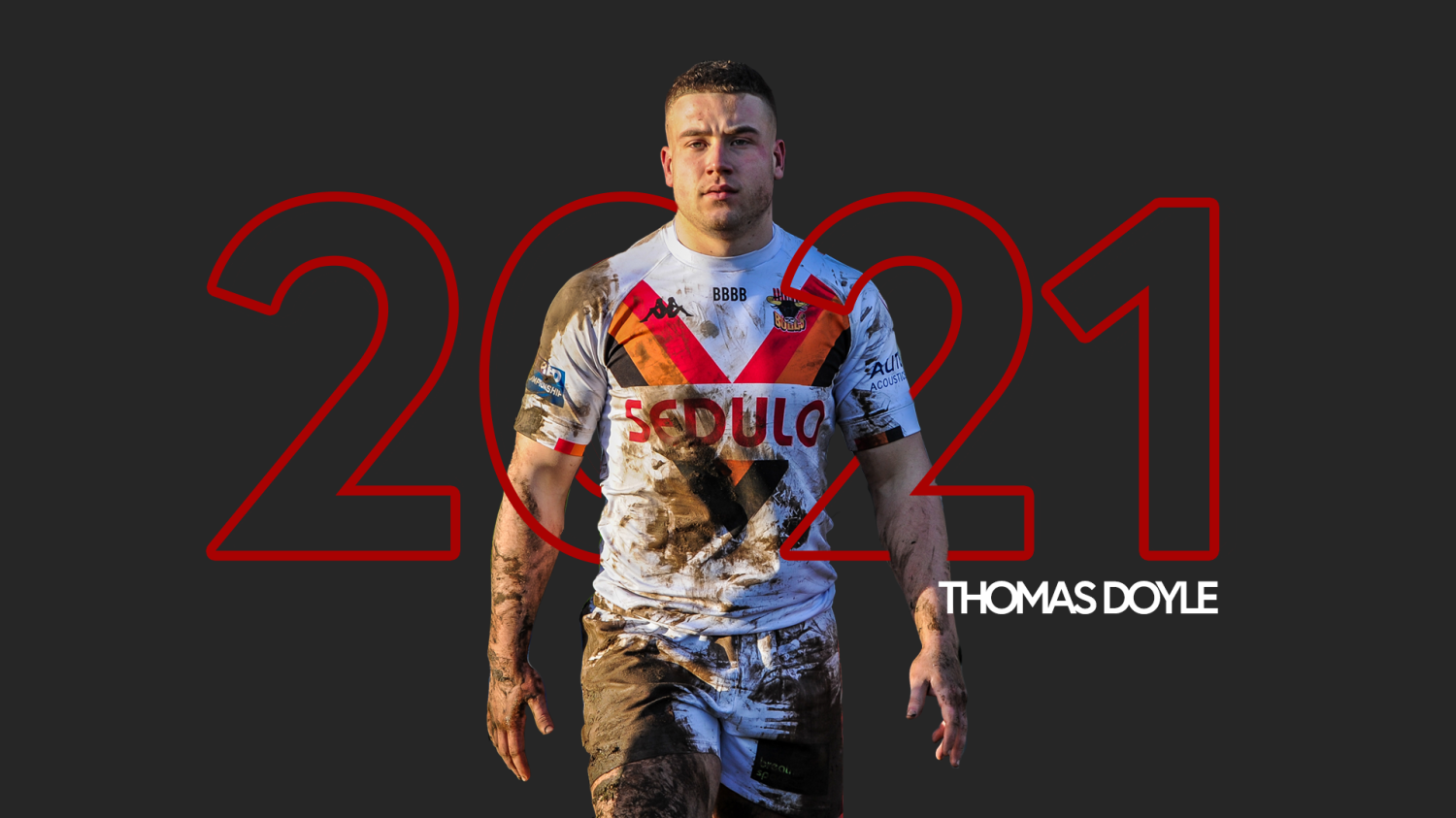 WE are delighted to announce rising star Thomas Doyle has signed a new one-year deal with the club – meaning he will be a Bull until at least the end of the 2021 season!
The 21-year-old emerged through the club's famed Academy set-up and made his senior bow against Rochdale in 2019 – scoring a brace of tries.
Hooker Doyle made an impressive start to the 2020 campaign scoring in successive games against London Broncos and Featherstone Rovers prior to the season's curtailment.
Our No. 9 insists leaving the club was never an option – with the focus on impressing John Kear and helping push towards promotion in 2021.
"I am very pleased to have signed – it did not enter my mind to go elsewhere, it is a good group of lads in a very tight knit group here," said Doyle, who is sponsored by Mary-Jo Daly.
"John [Kear] was very important in my decision as was all the coaching staff, as a group we all try catch his eye with our performances.
"I thought I started the year quite well and built a lot of confidence from the games against London and Featherstone, two teams who were serious contenders for promotion.
"That is now the target for us next year and I know all the lads will be on the same wavelength.
"I want to help towards that goal and get as much game time as I can and I am very happy to be doing that under John Kear."
Bradford boss Kear believes the club have secured the future of a 'very good player' – who has massive potential with his best years ahead of him. "Doyley is a really good player and ever since his two-try debut against Rochdale everybody has said wow this kid has something!" said Kear, who is sponsored by Bradford Bulls Banter.
"He has not disappointed in any game he has played and he is definitely someone whose better years are in front of him – but he is a very good player now with a great deal of improvement to come.
"He is not overawed by who he is playing against or with and he is very respectful and that is the a sign of the bloke we have got.
"I am delighted he is here for another year and he is developing rapidly into a very good player.
"The squad is shaping up very nicely with more to be announced in due course, 2021 is shaping up to be a very good year but hopefully we can get back out there in 2020 for our supporters."