16 Feb 2020
BATTLING BRADFORD FALL TO LATE DEFEAT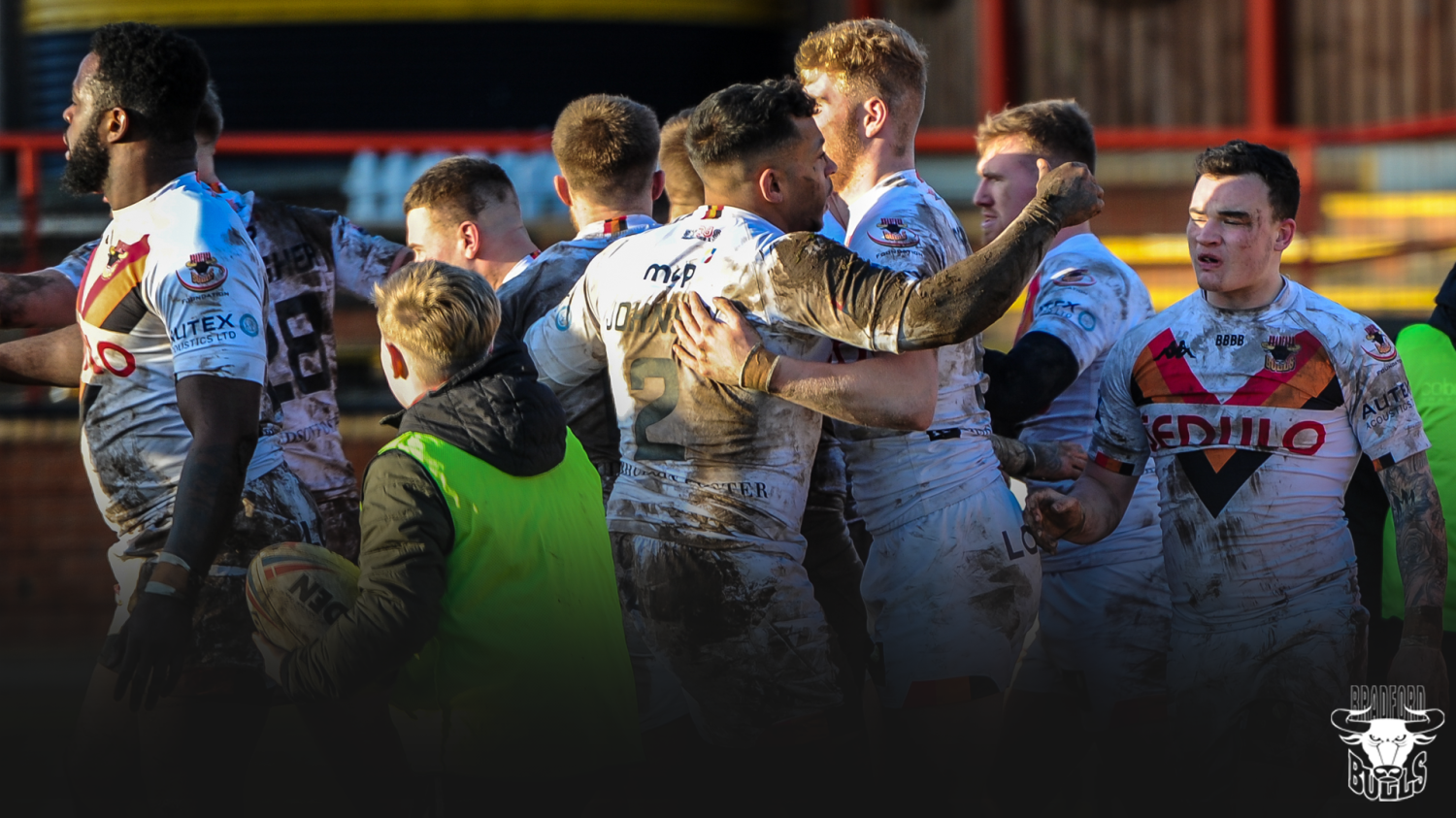 A LATE Featherstone try put a halt to a late Bradford fightback to condemn John Kear's side to a 30-22 defeat in tough conditions at the Tetley's Stadium this afternoon.
Callum McLelland broke the deadlock on 13 minutes on a last-tackle play before James Harrison doubled Featherstone's advantage.
Bradford enjoyed plenty of possession near the Featherstone line and it paid dividends when Thomas Doyle scored a trademark effort prior to the interval.
The home side raced out of the starting blocks when half-back duo Milnes and Lilley combined to bring Bradford level.
Featherstone then went back-to-back through Jack Bussey and a controversial Hall score before Brandon Pickersgill and Matty Dawson-Jones set up a tense final ten minutes before Blackmore's late effort.
John Kear named the same 17 that took to the field in the impressive opening-round display against London Broncos.
Bradford enjoyed the stronger start of the two but it would the visitors who scored first, McLelland stepping past the home defence on the last tackle.
Back came Bradford - who nearly went over through Matty Dawson-Jones on the left edge in one of a number of attacking forays near the Featherstone line.
But Featherstone added to their advantage on their next spell near the hosts' line, Harrison latching onto a kick to touch down by the posts.
The Bulls ramped up the pressure as the first half wore on and that pressure counted when Doyle – on the back of his scurrying intervention against London Broncos – matched his opening-round feat to bring Bradford back into the contest.
Jordan Lilley's kick just evaded the hands of Greg Johnson with seconds left of the half with the home side rallying.
Bradford's early pressure at the start of the second half saw them draw parity – Milnes' kick inch-perfect and pounced upon by Jordan Lilley.
Featherstone battled back into proceedings and despite what looked a forward pass, Bussey crashed over to re-take the lead.
On their next set, a Featherstone man knocked on over the line but referee Matt Rossleigh pointed the finger.
Bradford would not be dettered however and Pickersgill's dancing feet saw him step over for a try to reduce the arrears.
With momentum firmly in the home side's sails, Dawson-Jones continued his impressive try-scoring start to life in the red, amber and black to step up a frantic finale.
But Ben Blackmore broke Bradford hearts to seal the spoils in another Betfred Championship classic.
BRADFORD BULLS: Brandon Pickersgill, Greg Johnson, Joe Brown, Ross Oakes, Matty Dawson-Jones, Rowan Milnes, Jordan Lilley, Anthony England, Sam Hallas, Steve Crossley, Adam Rooks, Brad Gallagher, Liam Kirk. INTERCHANGES: Evan Hodgson, Levy Nzoungou, Thomas Doyle, Ebon Scurr.
TRIES: Doyle, Lilley, Pickersgill, Dawson-Jones
GOALS: Milnes 3/4
FEATHERSTONE ROVERS: Craig Hall, Ben Blackmore, Greg Worthington, Josh Hardcastle, Conor Carey, Louis Jouffret, Callum McLelland, Alec Susino, Jack Bussey, Thomas Holroyd, James Harrison, Brett Ferres, James Lockwood. INTERCHANGES: Dean Parata, Wellington Albert, Luke Cooper, Jarrod O'Connor.
TRIES: McLelland, Harrison, Hall, Bussey, Blackmore
GOALS: Hall 5/5
ATTENDANCE: 3,640