15 Jan 2020
BULLS REVEAL 2020 SQUAD NUMBERS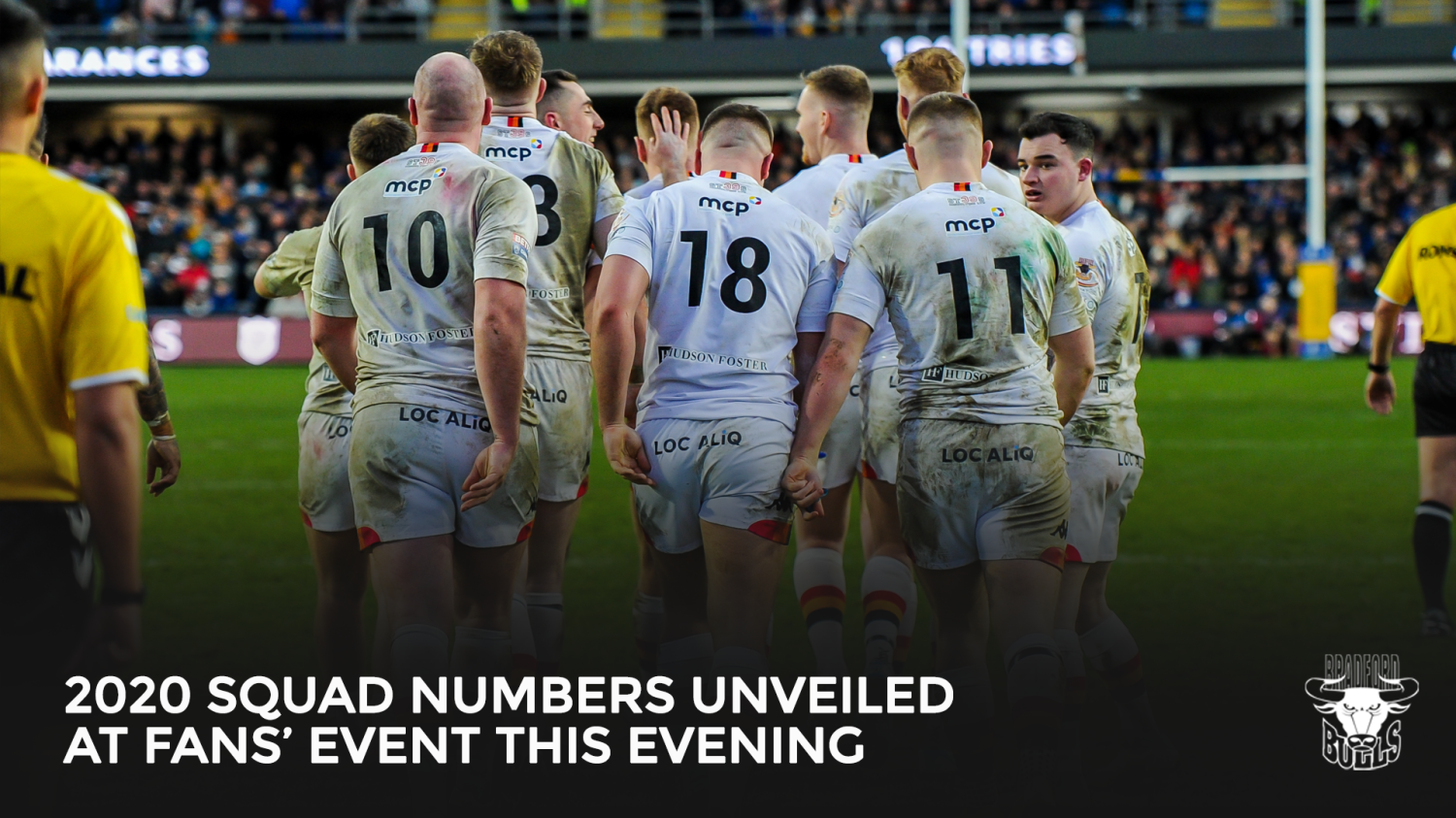 WE can this evening reveal the Squad Numbers for the 2020 campaign!
Notable numbers include new recruits Greg Johnson and Anthony England receiving 2 and 8 respectively, while Thomas Doyle receives the famous number 9 jersey.
The youthful quartet of Cobi Green, Harry Shackleton, Brad Gallagher and Ebon Scurr all receive squad numbers for the first time following impressive pre-season form.
2020 Bradford Bulls Squad Numbers
1. Brandon Pickersgill – Sponsored by Stuart Readyhough @ Maclean and Company Accountants
2. Greg Johnson – Sponsored by Ruth Rider, Darren and Gareth Rider-Smith
4. Ross Oakes – Sponsored by Geoff and Maureen Hammond
5. Joe Brown – Sponsored by Jennifer Bennison
6. Rowan Milnes – Sponsored by 39 Steps Consulting
7. Jordan Lilley – Sponsored by 39 Steps Consulting
8. Anthony England – Sponsored by Hudson Foster
9. Thomas Doyle – Sponsored by Mary-Jo Daly
10. Steve Crossley – Sponsored by The Top House
11. Adam Rooks – Sponsored by Jan Dunne
12. Connor Farrell – Sponsored by Mal and Ange Rider
13. Sam Hallas – Sponsored by Bradford Bulls Supporters Group / Q Gardens
14. George Flanagan – Sponsored by Blade Access
15. Liam Kirk – Sponsored by Fab-Tek Installations
16. David Foggin-Johnston – Sponsored by Dave Green & Anne Fish
17. Levy Nzoungou - Sponsored by BMG
18. Evan Hodgson – Sponsored by The Monro Family
20. Dan Waite-Pullan – Available For Sponsorship
25. Cobi Green – Available For Sponsorship
26. Harry Shackleton – Sponsored by Graeme Smith
27. Sam Barlow – Sponsored by Captain Hornblower, Carol and Tony
28. Brad Gallagher – Available For Sponsorship
29. Ebon Scurr – Sponsored in Memory of Sheila McCormick / Bull-tech Solutions
30. Keelan Foster – Sponsored by R Fearnley Builders