10 Jan 2020
JOHN KEAR NAMES 19-MAN SQUAD FOR JJB TESTIMONIAL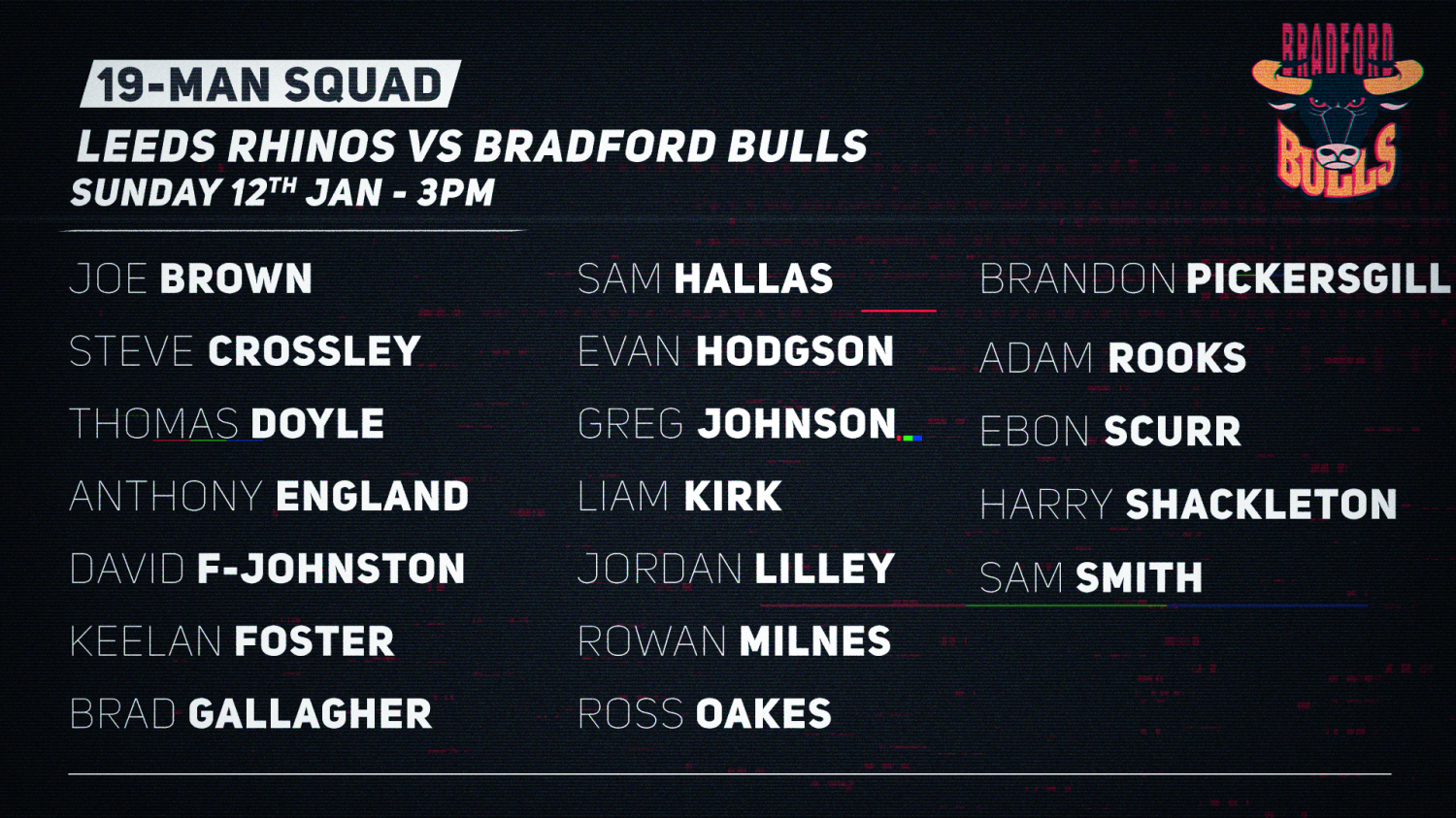 JOHN Kear has named his squad to make the short trip to the Emerald Headingley Stadium this weekend - with Evan Hodgson set to make his return from injury for his first appearance of pre-season!
Reserves' quintet Ebon Scurr, Keelan Foster, Sam Smith, Harry Shackleton and Brad Gallagher all retain their places following their impressive form so far in pre-season.
Liam Kirk has passed his Return To Play protocol following his withdrawal through concussion against Castleford, with Hodgson returning from a knee injury.
19-Man Squad vs Leeds Rhinos (A)

Joe Brown - Sponsored by Jennifer Bennison
Steve Crossley - Sponsored by The Top House
Thomas Doyle - Sponsored by Mary-Jo Daly
Anthony England - Sponsored by Hudson Foster
David Foggin-Johnston - Sponsored by Dave Green & Anne Fish
Keelan Foster - Sponsored by R Fearnley Builders
Brad Gallagher - Available For Sponsorship
Sam Hallas - Sponsored by Bradford Bulls Supporters Group
Evan Hodgson - Sponsored by The Monro Family
Greg Johnson - Sponsored by Ruth Rider and Darren & Gareth Rider-Smith
Liam Kirk - Sponsored by Fab-Tek Installations
Jordan Lilley - Sponsored by 39 Steps Consulting
Rowan Milnes - Sponsored by 39 Steps Consulting
Ross Oakes - Sponsored by Geoff and Maureen Hammond
Brandon Pickersgill - Sponsored by Stuart Readyhough @ Maclean and Company Accountants
Adam Rooks - Available For Sponsorship
Ebon Scurr - Sponsored by Bulltech Solutions / In Memory of Sheila McCormick
Harry Shackleton - Sponsored by Graeme Smith
Sam Smith- Sponsored by Graeme Smith