23 Apr 2022
NOTES FROM SUPPORTER LIAISON MEETING - 14/4/22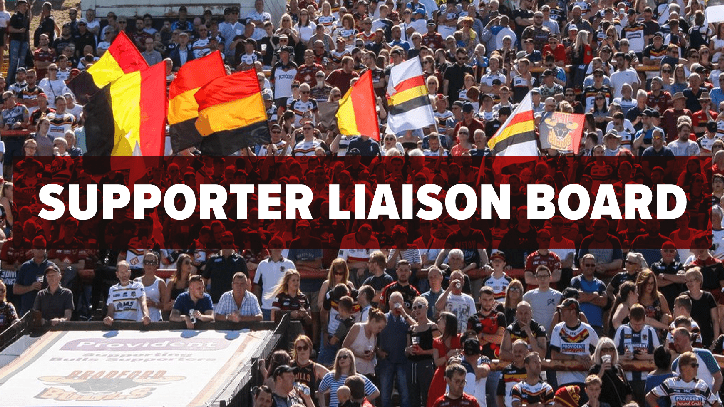 Notes from our latest Supporter Liaison Meeting have now been published...
BBSLG 14TH April 2022
1: PA System
A couple of questions/comments were received regarding the PA System: 1 area appears too loud, the other too quiet. As this is a new system work is ongoing to achieve a balance to suit everyone.
2: Scoreboard/Clock
A new clock should be installed in time for the Featherstone game. It will be situated on the Touchdown.
A scoreboard is a bigger expense and on the wish list for later.
3: Online Programme
A question about printed versions has been asked. The Online programme is a new trial. Looking into the time it takes to prepare content etc. Copies can be printed out at home. Unless there is a big demand unlikely to return to printed copies. Many Rugby League and Football teams have moved towards digital content. Will definitely remain digital for this year.
4 The Pavilion
A question about the future of the Pavilion and its use. There is a plan to refurbish it and re-open. If there is a delay we might look to refurb the old sweet shop which could be completed quicker and cheaper and be usable this year.
5 Track and Machinery
Comments received about the state of the track and the visibility of machinery.
Agreed that the general appearance has been bad but this is gradually improving. Conversations with the Stock Car promotors will continue
6: Non Ticket Membership
Question about non attending/overseas supporters having some form of membership.
This is something some other clubs do utilise. To undertake further investigation to see how this might work.
7: Scanners/Turnstiles
There have been delays on game days, but opening more turnstiles has hopefully helped reduce this.
Noticeable that there is more of an issue when the weather is bad and a lot of supporters arrive just before kick off. Will keep under constant review.
8 Running Game Day with volunteers and improving sense of community
Was not clear if this was about there being insufficient people around.
The games on the pitch and other elements of the experience are in the main run by volunteers.
It could be that those that volunteers are not immediately visible.
9 Young Bulls Initiative
Question asked about possible duplication/overlap with BullBuilder.
The Academy costs £100,000 per annum to run for which the club gets no central or other funding.
Jason Hirst, Director of Youth, had the idea to run this to get regular donations to help with the day to day running costs.
BullBuilder has traditionally concentrated on providing the 'extras' helping to ensure that the teams have the best equipment etc.
Agreed to look at Go Fund Me or similar as an alternative, and to follow up with a further article about the funding and future of the academy.
Suggested that academy players lead on fundraising events.
10 Pitch Regulation Size
Confirmed that the pitch currently exceeds minimum current regulations. Will keep under review and make alterations if it is possible to do so.
11 Concrete Walls around pitch
These are the regulation distance away from the pitch and meet safety obligations.
The corners are the Stock Cars responsibility, and they are currently looking for suitable alternatives
12 Seats and Terraces
The seats and terrace conditions are the responsibility of the Stock Car promotors to keep clean.
Additional cleaning has been undertaken ready for Halifax match, however, dust can still settle afterwards. The new surface of the track should settle and become less of a problem.
13 Season Tickets/Offers
Since the recent ticket bundle offer there has been some concerns re the affect on season ticket holders.
There are benefits to having a season ticket, these include 50% off Summer Bash tickets, Bull Ring discounts, free concert tickets, free room hire at AJJB, event discount tickets etc.
There were some suggestions as possible incentives/rewards, eg loyalty card, Hull KR had bring a mate for £1, Pre-Match area with drinks etc exclusive for season ticket holders.
Ideas for other incentives welcomed.
14 Game Day Experience
Currently working on improving this, with music, involvement from the Foundation, recent Easter Egg Hunt, Skills Zone, Community Games and lap around the pitch.
Mascot Package – currently undertaken by the Community Clubs/possible future involvement for Season Ticket holders.
Bullman and Bullboy are important to this.
15 Market Research
Suggested regular short questionnaires focused on the game day experience.