24 Jan 2022
PRE SEASON COMES TO AN END WITH RHINOS DEFEAT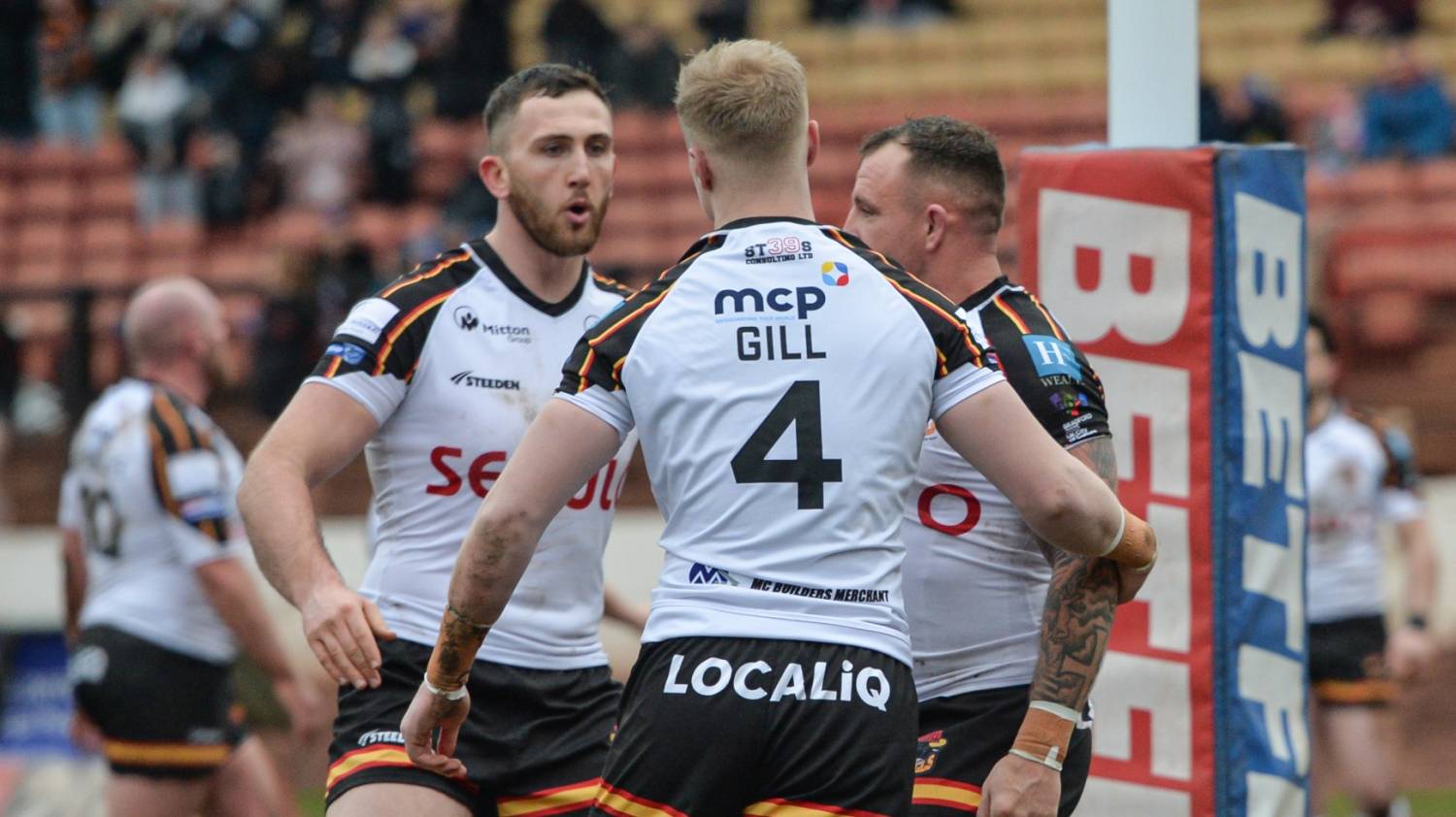 Bradford Bulls ended their pre-season campaign with a 30-12 defeat to Leeds Rhinos, with many of the club's Academy talents being given first team experience.
A fast start saw Kieran Gill touch down for his second try in as many games before Rhys Evans latched onto a clever kick by Billy Jowitt.
Tensions boiled over late on in the first half, as Matty Dawson-Jones and Muizz Mustapha were both sinbinned.
The visitors raced out of the blocks in the second half with a quickfire double from Liam Tindall and Max Simpson.
As the changes were rung, Tindall grabbed his second before late tries from Kai Morgan and Alfie Edgell brought our pre-season campaign to a close.
Head Coach John Kear reshuffled his pack for the last pre-season encounter against fierce rivals Leeds Rhinos, with Sam Scott and Jordan Baldwinson lining up from the start.
A rapid start saw Gill superbly take a short ball to touch down from Patton, after early Leeds pressure.
Bradford survived four consecutive Rhinos sets on their line to earn a penalty, which saw them score soon after.
Jowitt slid a delicate kick in behind, with Evans the grateful recipient, as he collected to slide over.
A flashpoint then occurred on the stroke of halftime as both teams clashed, with Dawson-Jones and Mustapha both being sent for ten after a scuffle.
After the interval, Leeds went back-to-back, with a break occurring in midfield allowing Tindall to race away and score.
The second then came for the Rhinos as another break saw Simpson slide over.
Leeds then took the lead, as Tindall scored his second of the afternoon, with a long ball reaching him to score in the corner.
John Kear then made several changes as the second half drew on, with Lewis Camden, Samuel Arundel and Taylor Mail all seeing some action.
The changes showed, as Bradford struggled to survive the Leeds pressure, with Morgan finding his way over.
With a tiring Bradford team, Leeds' class showed as Edgell then touched down to seal the game for the Rhinos against a youthful Bulls side.
BRADFORD BULLS – Elliot Kear, Matty Dawson-Jones, Rhys Evans, Kieran Gill, David fogging-Johnston, Billy Jowitt, Dec Patton, Steve Crossley, George Flanagan, Ant Walker, Sam Scott, Aaron Murphy, Jordan Baldwinson.
INTERCHANGES – Ebon Scurr, Joe Burton, Bradley Ho, AJ Wallace, Eldon Myers, Sam Arundel, Lewis Camden, Ryan Forshaw, Coby Nichol, Taylor Mail.
TRIES
Kieran Gill, Rhys Evans
GOALS
Dec Patton (2)
LEEDS RHINOS – Jack Walker, Levi Edwards, Jack Broadbent, Max Simpson, Liam Tindall, Liam Sutcliffe, Jack Sinfield, Sam Walters, Corey Johnson, Muizz Mustapha, Alex Mellor, Rhyse Martin, Jarrod O'Connor.
INTERCHANGES – Bodene Thompson, Mackenzie Turner, Joseph Hird, Joseph Gibbons, Oliver Field, Kai Morgan, Alife Edgell.
TRIES
Tindall (2), Simpson, Kai Morgan, Alfie Edgell.
GOALS
Rhyse Martin 3/3, Jack Sinfield 2/2