16 Jan 2022
SEVEN HEAVEN FOR THE BULLS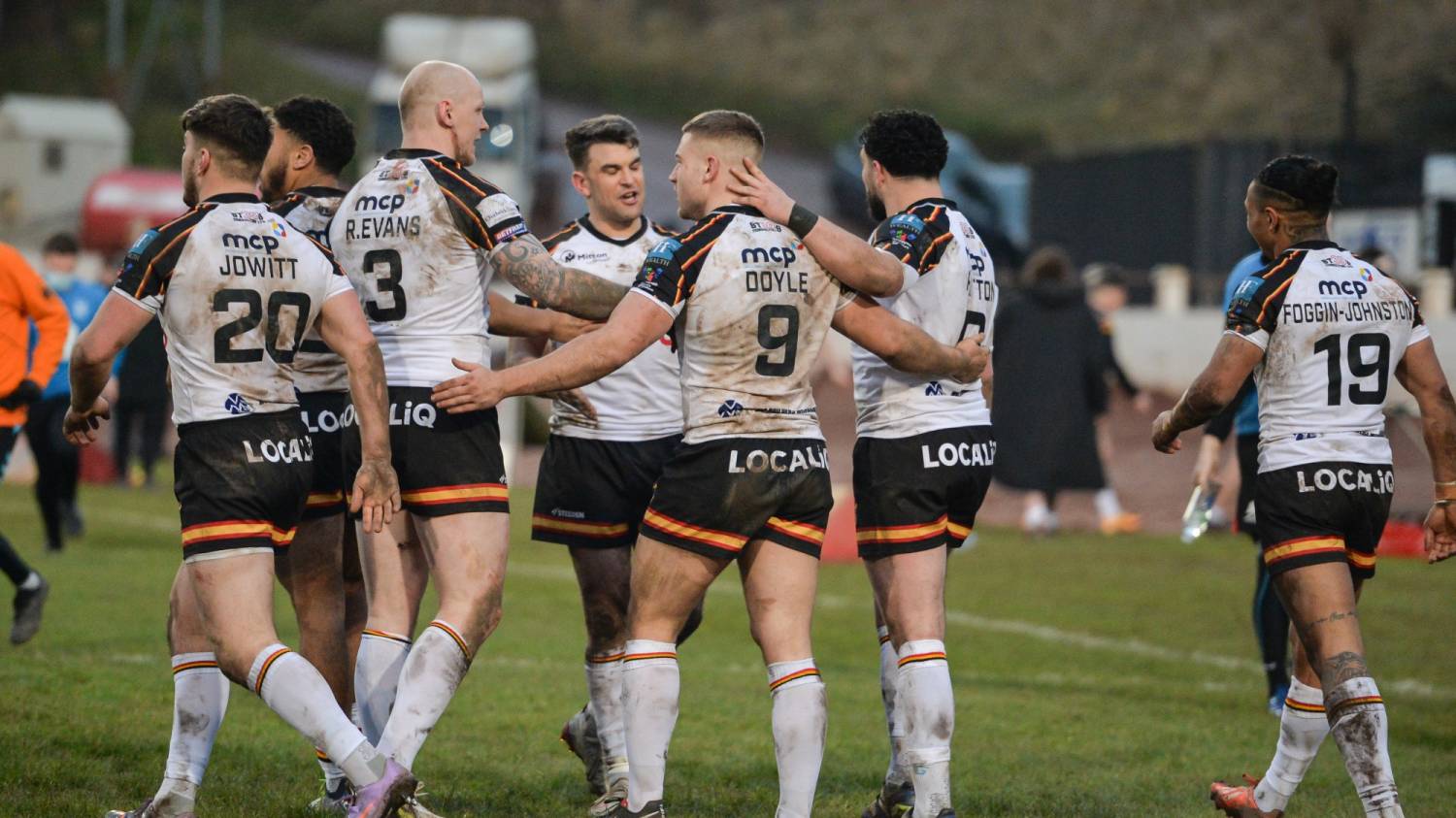 Bradford Bulls recorded their first pre-season victory over Hull FC, with David Foggin-Johnston scoring a spectacular double as John Kear's men ran in seven tries in a 42-18 win.
A rapid start from the home side saw Kieran Gill intercept and race away for an opening score, before back-to-back tries from Hull FC saw them take the lead, through Brad Fash and Callum Rutland.
Bradford weren't behind for long, as Tom Doyle found space to diver over, with Ben Evans following up his try soon after, reaching out to touch down.
After the break, Bradford was in rampant mood, as they went back-to-back again, through David Foggin-Johnston and Elliot Kear, the former diving over acrobatically.
The flying winger grabbed his second in similar fashion, as the Bulls took charge of this encounter.
Charlie Rutland burrowed his way over to reduce the arrears, scoring his second of the game before a stunning Nichol solo effort.
John Kear made a host of changes, as he brought back powerful forward Ebon Scurr for his first appearance of pre-season.
Both sides came out firing, with Hull looking to move the ball out wide, Gill stepped out and took the pass, to race away 70m to score his first try in Bradford colours.
Two quick fire tries from the Black and Whites saw them lead, however, as captain Fash stepped his way over, with the aid of the post pad.
A suspect looking pass then sent Rutland through a gap to slide over next to the posts.
Bradford then hit Hull with a double to retake the lead before the break, as Doyle barged over in typical fashion, with Ben Evans then reaching out and touching the ball down, just.
With a six-point lead after half time, John Kear's men then extended it to eighteen within five minutes, as Foggin-Johnston went over in style in the corner, before Kear battled through two defenders to score.
Foggin-Johnston then added another to his personal tally, with a copy of the first.
Rutland brought the game back into contention with fifteen minutes as he spotted space to burrow his way over for his second, however, Nichol sealed the victory with a stunning solo effort.
Kear rung the changes late on in the second half, as Camden and Arundel both took their place again and impressed in their short stints.
BRADFORD BULLS –Elliot Kear, Matty Dawson-Jones, Kieran Gill, Rhys Evans, David Foggin-Johnston, Dec Patton, Billy Jowitt, Dan Fleming, Thomas Doyle, Ebon Scurr, AJ Wallace, Aaron Murphy, Jordan Baldwinson.
INTERCHANGES – Ant Walker, Steve Crossley, Sam Scott, Ben Evans, Joe Burton. - Bradley Ho Lewis Camden, Adam Horner, Sam Arundel, Ryan Forshaw, Coby Nichol.
TRIES
Kieran Gill, Tom Doyle, Ben Evans, David Foggin-Johnston (2), Elliot Kear, Coby Nichol
GOALS
Patton 6/6
Jowitt 1/1
HULL FC – Davey Litten, Martin Lewis, Cameron Scott, Leon Stewart, Manoa Wacokecoke, Marcus Walker, Callum Rutland, Bradley Fash, Jordan Johnston, Aidem Burrell, Charlie Severs, Zach Jebson, Ligi Sao, Kieran Masike, Samuel Richards, Nicholas Staveley, Alexander Gibson, Mackenzie Harman.
TRIES
Fash, Rutland (2)
GOALS
Rutland (2)