14 Oct 2021
FLANAGAN PENS NEW DEAL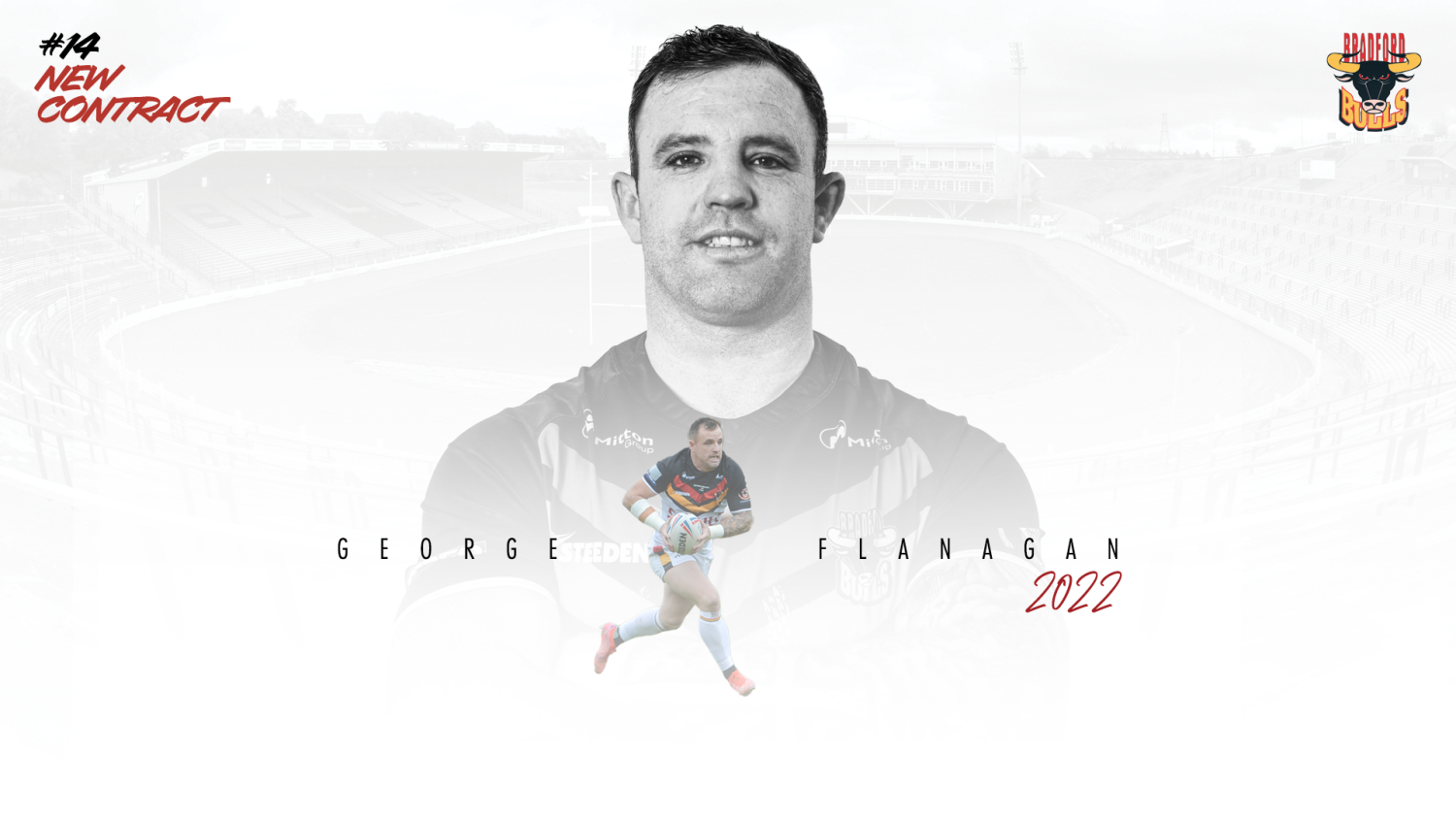 Bradford Bulls are delighted to announce George Flanagan has penned a new one-year deal!
The boyhood Bradford fan returned to the club in 2018 and has gone on to make 50 appearances, scoring 26 tries.
The 35-year-old was in impressive form towards the back end of the 2021 season, scoring braces against Newcastle Thunder and Swinton Lions to help John Kear's side book a play-off berth.
"I am buzzing it has come at a good time for me, from speaking to John and Mark it hasn't been the best year personally but I am delighted they have shown faith in me to go round again and I can't wait to have a good crack at it," said Flanagan, who is sponsored by Captain Hornblower, Carol and Tony.
"I just want to do my best for this team at every opportunity, I came back and scored tries but I just want to push on and repay the faith they had in me during a tough period.
"Coming back into pre-season last year there were a lot of protocols in place so this year hopefully we can have a good full pre-season, a bit of old school bashing with John and Mark and hopefully go one step further next year.
"I have made no secret of the fact I want to finish my career here and the club have always stood by me, I love being at this club and I like John's coaching style, I am buzzing and want to finish my career here.
"One of the bonuses of being at a club like Bradford is you sign the likes of Dec Patton, who will bring his experience and calibre down here and I look forward to lining up with all the new lads.
"I just want to thank Bradford fans for their support when I was going through a tough time, my message to the fans is stick by us and we will give it a good shot for you next year."
Bradford boss Kear believes Flanagan can play a key role in the Bulls' promotion bid in 2022 – praising his passion and dedication.
"George is someone who embodies just what it means to play for this club, he is very passionate about the club and works very hard away from the club to ensure he can put his best foot forward," said Kear, who is sponsored by Bradford Bulls Banter.
"I am certain he has another very productive year in front of him, he is very important to us as a coaching and playing group.
"He sets examples off the field and I felt he was harshly treated earlier on this year, we stood by him and he repaid us and that is why he has signed for another year."
You can watch George in action next year with a 2022 Season Ticket!
Juniors Go Free - and Adult prices start from £99.
CLICK HERE to buy yours online - alternatively, call us on 0333 323 5075 or visit the Team Shop.
Bradford Bulls Team Shop Opening Hours
Tuesday to Friday (10:00-17:00)
Saturday (10:00-14:00)