7 Oct 2021
HALL JOINS ON TWO YEAR DEAL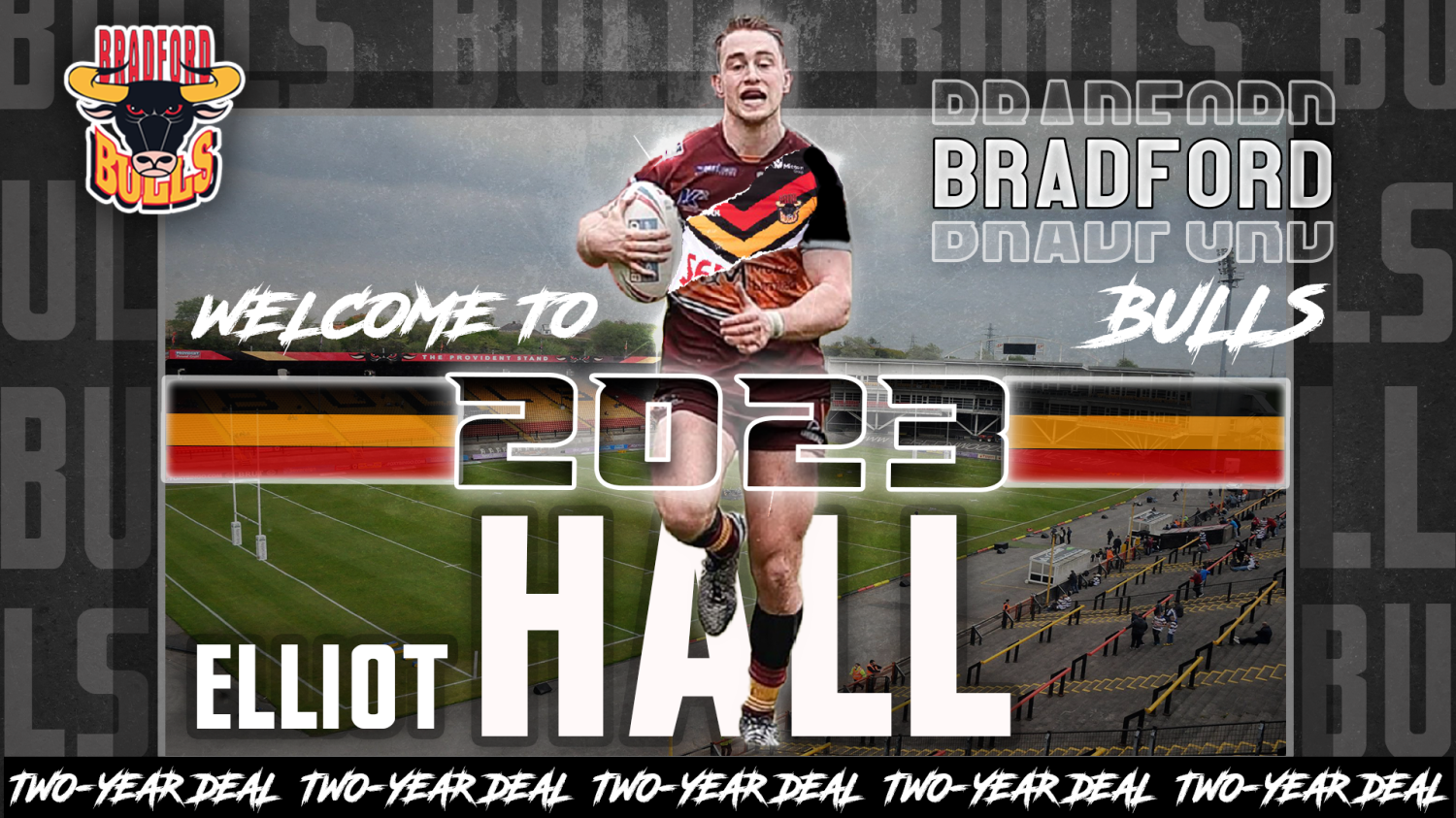 Bradford Bulls are delighted to announce the signing of full-back Elliot Hall from Batley Bulldogs on a two-year deal!
The 24-year-old arrives bringing an impressive try-scoring record on the back of a campaign with the Batley Bulldogs that saw him knock Bradford out of the play-offs - scoring his 11th of the season.
Elliot is also the grandson of former Australian great Duncan Hall, who was named in the NRL Hall of Fame and the Australian Team of the Decade.
Hall has spoken of his delight at joining - and wants to kick on to play his part in helping the club get back into Super League.
"I am delighted, for someone who has followed Rugby League all my life and only started playing when I was 18, the opportunity to join a club like Bradford is massive for me," said Hall.
"It is a club with a lot of history and the opportunity to add to that history really excites me and I cannot wait to get started.
"I had a few years in League One then joined Batley and I wanted to prove I could make the step up to Championship level and I feel like I achieved that and now I really want to kick on, further develop and add value to the team to get it to where it can get to.
"Try scoring is a bit of a point of difference for me but ultimately I am a team player and will do the job I need to do but if the opportunity arises I feel I can take those chances.
"The fans seem great having played against Bradford a few times, you notice the noise and how they get behind the players and it will be nice to be on the right side of them next year!
"Playing with players like Jordan Lilley and Danny Brough – along with the many other great players in the squad – will help me develop further."
Hall also explained further about how his grandad Duncan Hall played at Odsal Stadium for the Australian National Team, but had a rather rocky experience!
"My grandad played for Australia and was named in the Team of the Century and in the NRL Hall of Fame – he was also nominated to be an 'Immortal' alongside Mal Meninga and Wally Lewis!
"He came on two tours with Australia in the 1950s and one of those games was at Odsal, it was dubbed 'The Battle Of Odsal' cause he actually got sent off for a swinging arm or something!
"He got escorted off by the police and the fans were chucking stones and rocks at him as he left so hopefully I wont get sent off as well but can score a few tries while I am here."
Bradford boss John Kear believes Hall's try scoring return - coupled with his pace - will help result in a more dangerous backline in 2022.
"Elliot is a really good player, we have monitored him all year in truth and he was one who went from Coventry to Workington and scored a try a game there," said Kear, who is sponsored by Bradford Bulls Banter.
"His try scoring return per appearance at Batley has been phenomenal and they all think highly of him there – he will be a welcome addition and will certainly add some pace to our backline.
"That has been part of our strategy in regards to the recruitment of backline players, we felt we didn't return enough tries per game with the current crop and that is something we have endeavoured to improve upon."
You can watch Elliot in action next year with a 2022 Season Ticket!
Juniors Go Free - and Adult prices start from £99.
CLICK HERE to buy yours online - alternatively, call us on 0333 323 5075 or visit the Team Shop.
Bradford Bulls Team Shop Opening Hours
Tuesday to Friday (10:00-17:00)
Saturday (10:00-14:00)