12 Sep 2021
KEAR REACTION TO WIDNES DEFEAT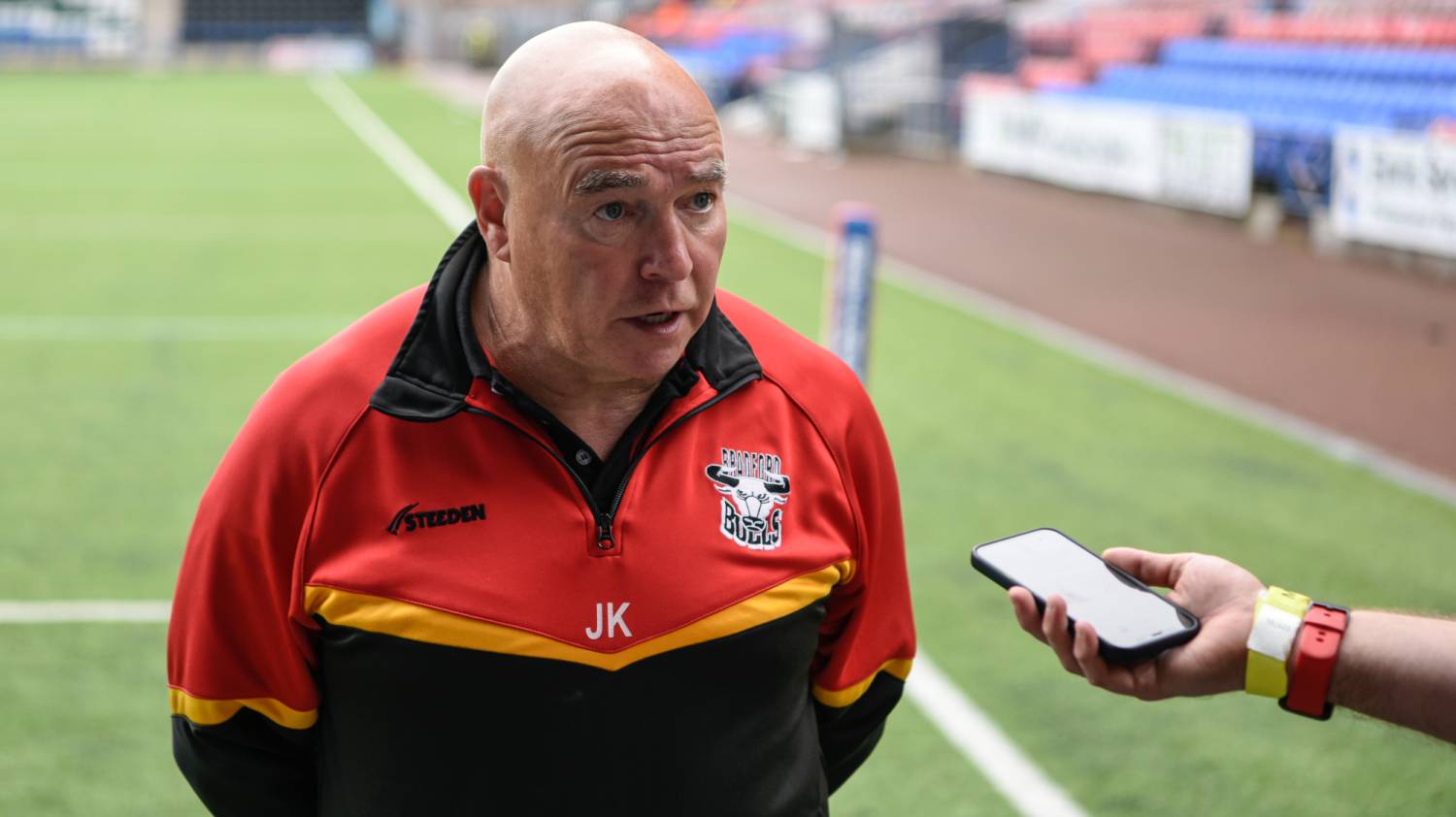 Bradford boss John Kear praised his side's defending in yesterday's 10-9 defeat to Widnes Vikings but felt his side 'clasped defeat from the jaws of victory'.
A sole Jack Owens score saw Widnes lead at the break – with errors plaguing a stop start first half.
8 points from Jordan Lilley and a drop-goal from Danny Brough looked to have won the contest for Bradford, before a late Owens penalty.
Kear was left frustrated by the missed opportunity to go up into third place – with the Bulls now left needing to beat in-form Whitehaven RLFC to confirm a home play-off berth.
"We've lost the game, they are all devastated and I am because we won it and we clasped defeat from the jaws of victory with our actions," said Kear, who is sponsored by Bradford Bulls Banter.
"We had the game in our pocket, we win that with the other results in our hands to get third now we rely on Batley beating Halifax and us winning so again we put our fate into other people's hands, it's just dumb.
"I thought we did enough to win and we did do enough, you should win the game and we didn't, that's how it is. We want to be at home in 3rd, it was in our hands to do that and we haven't.
"I thought Elliot [Kear] and Eldon [Myers] did really well, gave us energy and dynamism I was happy with them, I was happy with the team for 78 minutes 55 seconds.
"We defended well, we emphasised it in training after last week's shellacking they defended magnificently and apart from penalties they are the only points concede.
"I thought we did a proper play off job rolled our sleeves up and grounded out a win but we threw it away in the last minute."
Attention now turns to Sunday's final game of the regular season - with Whitehaven RLFC the visitors to Odsal Stadium.
Adult tickets cost ONLY £10 - with Juniors FREE! CLICK HERE to buy yours - alternatively, call us on 0333 323 5075 or visit the Team Shop.
Team Shop Opening Hours
Mon (CLOSED)
Tues to Fri (10-5)
Sat (10-2)
Sun (12-3 HOME MATCHES ONLY)