10 Sep 2021
DUO POISED TO DEBUT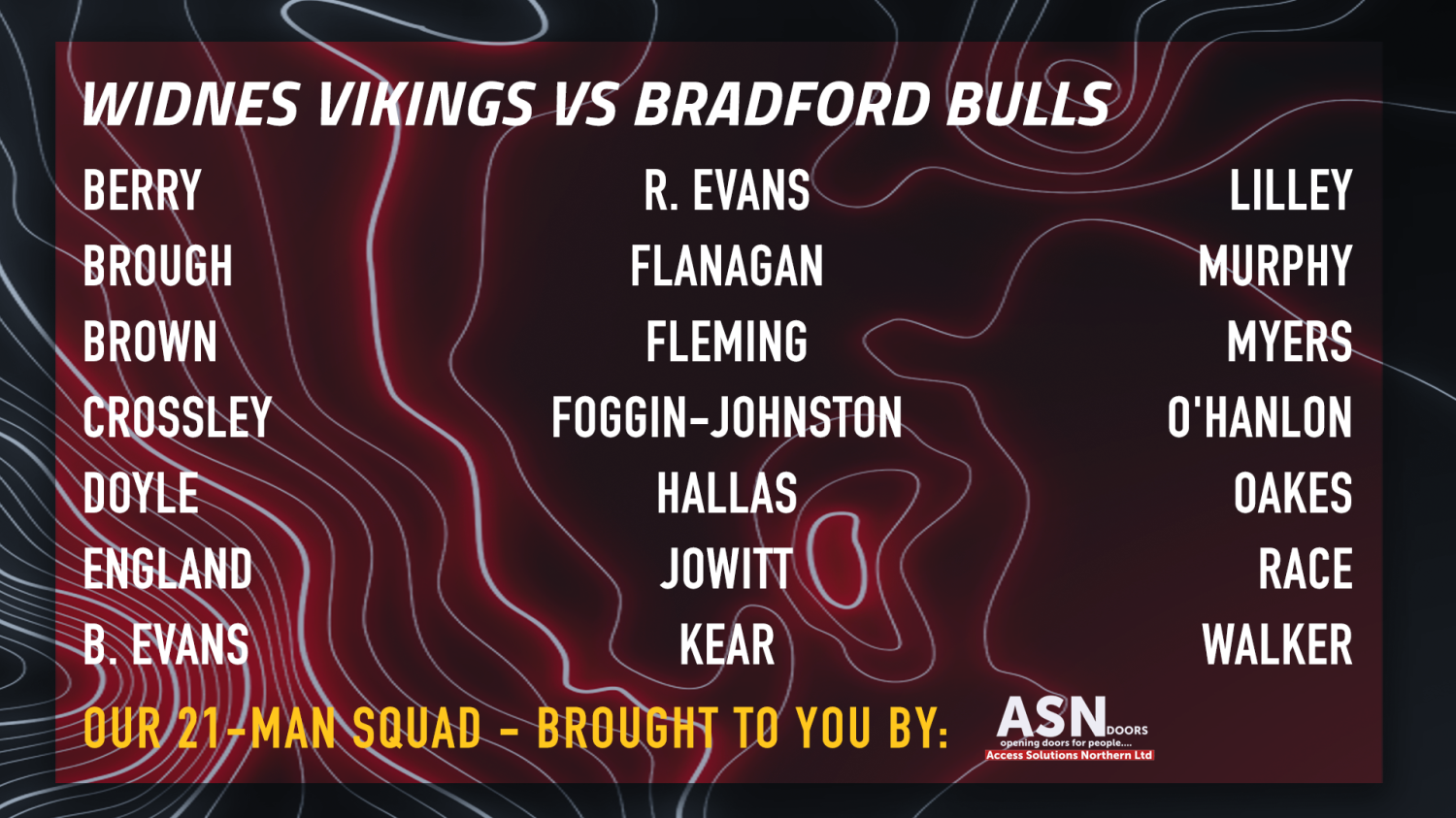 BRADFORD Bulls Head Coach John Kear has named his ASN Doors 21 Man Squad for the final away game of the regular Championship season, against Widnes Vikings.
Elliot Kear is in line to make his second debut for the club, after completing his firefighter training, while Danny Brough is also back in contention after his injury.

New signing Eldon Myers is also named. Adam Rooks, Masi Matongo and Jack Sanderson are in the final stages of their isolation protocols, with Ebon Scurr stepping up his rehabilitation from an ankle injury suffered against Newcastle.
ASN Doors 21 Man Squad
Cameron Berry – Sponsored by John Hazell & William Shepherd
Danny Brough – Sponsored by Hudson Foster
Joe Brown – Sponsored by Jen Bennison
Steve Crossley – Sponsored by The Top House
Thomas Doyle – Sponsored by Mary-Jo Daly
Brad England – Sponsored by Mal and Ange Rider
Ben Evans – Sponsored by 39 Steps Consulting
Rhys Evans - Sponsored by 39 Steps Consulting
George Flanagan – Sponsored by Captain Hornblower, Carol and Tony
Dan Fleming – Sponsored by Sandy & Richard Monro
David Foggin-Johnston – Sponsored by Dave Green and Anne Fish
Sam Hallas – Sponsored by Ady Gill and Dave Green
Billy Jowitt – Sponsored by Lloretta-Clare Moorhouse
Elliot Kear – Available for Sponsorship
Jordan Lilley – Sponsored by 39 Steps Consulting
Aaron Murphy – Sponsored by Ruth Rider & Darren & Gareth Rider-Smith
Eldon Myers – Available for Sponsorship
Ethan O'Hanlon – Sponsored by The Needless Inn
Ross Oakes – Sponsored by Geoff and Maureen Hammond
Matty Race – Sponsored by K3 Cosmetic Dental Studio
Ant Walker – Sponsored by In Memory of Dennis Trotter