11 Jun 2021
CHAIRMAN NIGEL WOOD HONOURED WITH OBE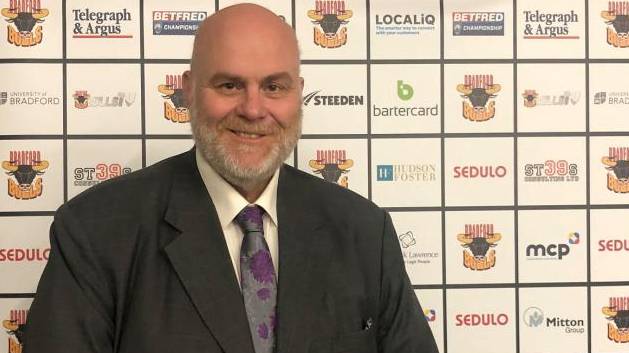 BRADFORD Bulls chairman Nigel Wood has been awarded the OBE in the Queen's Birthday Honours, for his services to Rugby League.
Nigel, a proud Bradfordian who has been at the forefront of the moves to bring the Bulls back to the city since a change of ownership at the club in 2019, previously spent 18 years with the Rugby Football League – 12 of them as Chief Executive – and then became Chair of the game's International Federation.

Before that, he spent six years with Halifax during the early years of the Super League era, and he has been immersed in Rugby League throughout his life as a ball boy, then a player, and a volunteer with the Pennine League.
"I am surprised, humbled and extremely honoured to be recognised like this," he said.
"It has been the privilege of my life to have served the sport that I love; across a number of positions over the years. I am grateful to those who nominated me. I would like to thank my family for their enduring love and sacrifice and my friends and colleagues for their continuing encouragement and support."
Simon Johnson, the Chair of the RFL, said: ""I am delighted and honoured to welcome this award on behalf of the RFL and the sport. Nigel Wood was a member of the RFL Board for 18 years, and steered the sport as Chief Executive for more than a decade including the successful staging of the 2013 World Cup and the foundation of the Rugby League Benevolent Fund, before becoming Chair of the International Federation."
Tim Adams MBE, the Chair of the Rugby League Benevolent Fund, said: "In addition to the many other achievements of his long period with the RFL, which inevitably involved navigating some choppy waters, Nigel Wood was the main instigator for the formation of the Benevolent Fund, which has done so much to support Rugby League people in their hour of need. He should also be given credit for the decision to donate £1 from every ticket sold for the Challenge Cup Final at Wembley and the Grand Final at Old Trafford to the Fund, without which we would not have been able to provide anything like the same level of support."