2021 SEASON TICKETS
IN THIS TOGETHER. WE ARE ONE.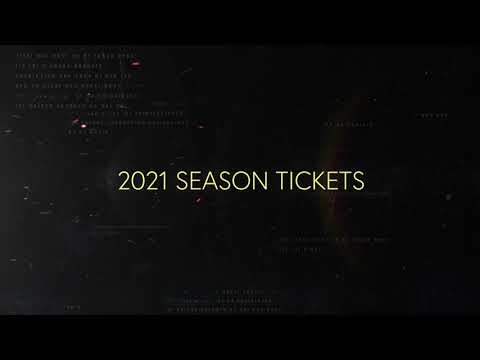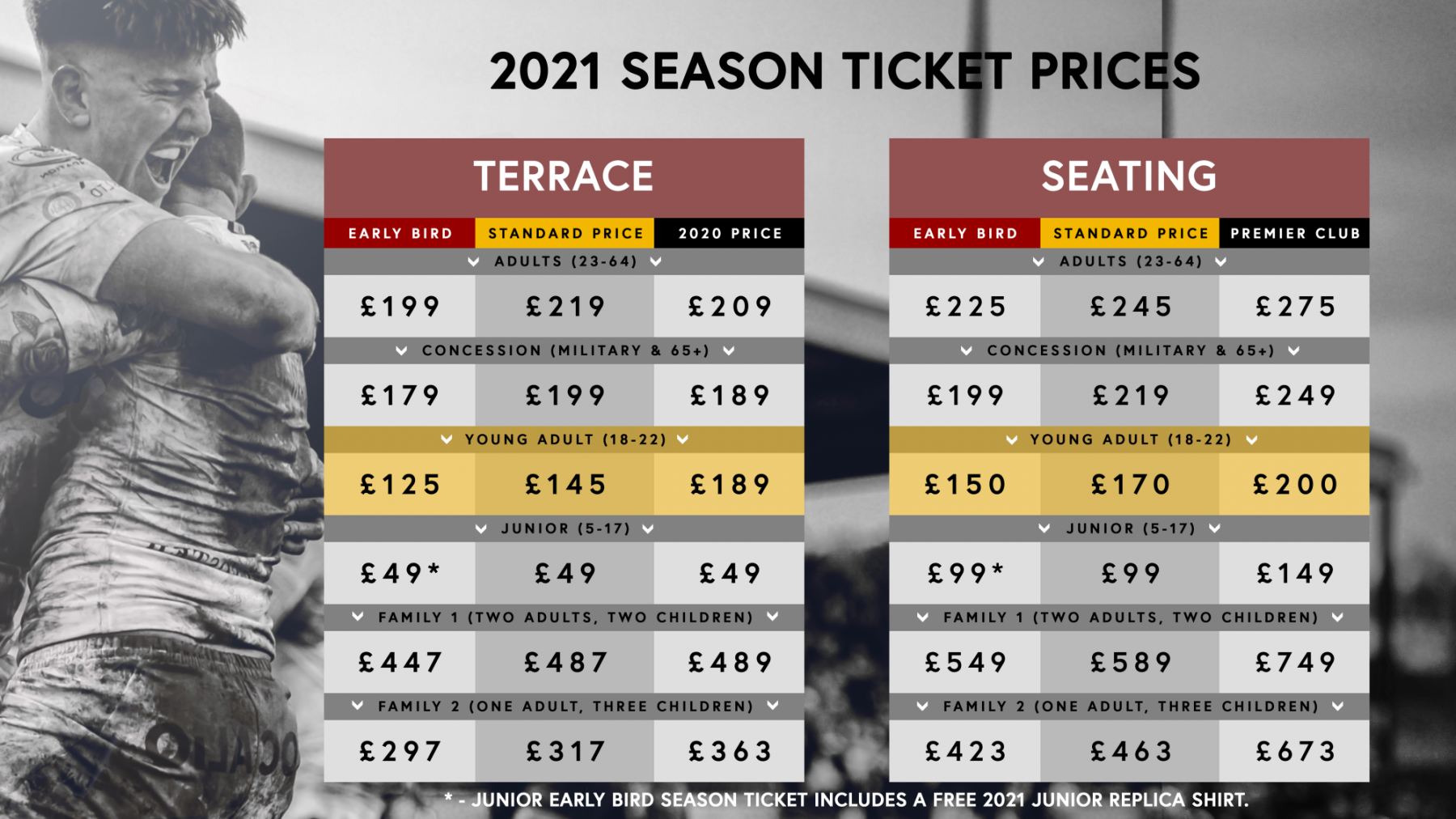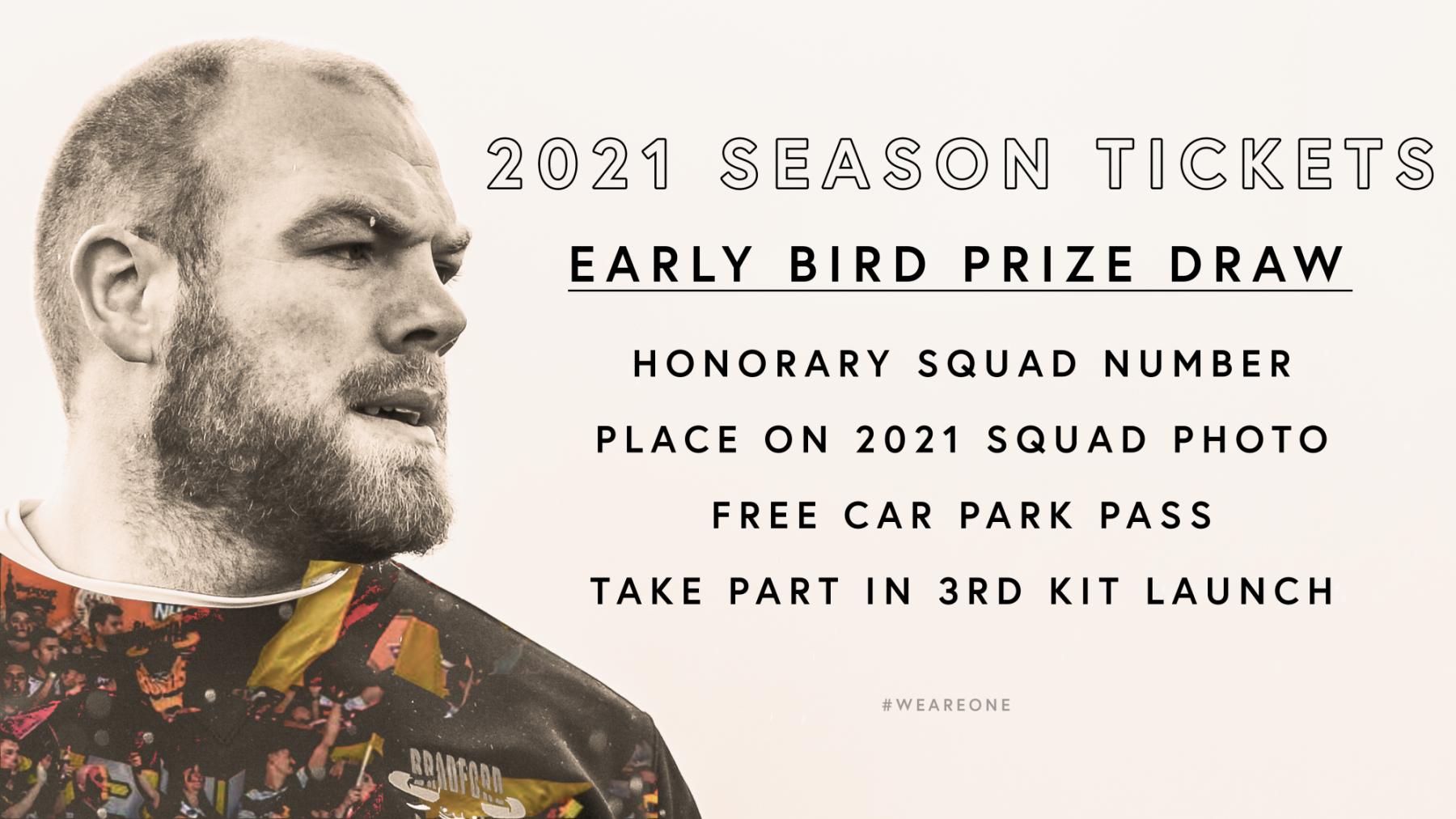 To buy your 2021 Season Ticket - CLICK HERE. Alternatively, you can pop up to the Team Shop or call 0333 323 5075.
Q: What happens after the Early Bird deadline?
A: Prices across all non-Junior categories rise by £20 and you will not be able to take advantage of the fantastic Early Bird benefits on offer.
Q: If we cannot attend matches due to Lockdown restrictions, will matches be streamed?
A: Yes, if we have any sort of restriction on capacity or if games are forced to be played behind closed doors, streaming will be free to all 2021 Season Ticket holders.
Q: What matches are included in the 2021 Season Ticket?
A: All first-team 'Home' league fixtures are included as per previous years – and you can get discounted entry to all Women's, Academy and Scholarship home fixtures.
Q: What happens if I chose Option A on the 2020 Season Ticket survey?
A: As promised as part of the reward for the incredibly generous donations, your 2020 Season Ticket will be frozen for three years, starting with 2021! There is no Early Bird Deadline for those who chose 'Option A', you can reap the benefits whenever you book and you will not pay a penny more than you did last season. If you are wanting to purchase your Season Ticket after January 31st, you will have to contact the club to process that booking.
Q: I chose Option B and got told I would receive a third off the price of my 2021 Season Ticket but the price advertised is the same as last year?
A: If you chose Option B, you will indeed get a third off your 2021 Season Ticket, regardless of what is advertised! If you bought an Adult Season Ticket, you would receive a third off the price of a standard Adult Season Ticket - as a thank you for your generous donation earlier this year! Also, there is no Early Bird deadline, so you can reap the benefits whenever you book.
Q: Do I still receive a free Junior shirt with a Junior Season Ticket?
A: Yes you do, but only if you purchase a Junior Season Ticket before the January 31st Early Bird deadline. The offer is for Early Bird Season Ticket holders only.
Q: Are these Season Tickets for games played at Dewsbury or Odsal?
A: The 2021 Season Tickets are based on games being played at the Tetley's Stadium to begin with, however as soon as redevelopment works are completed – which we hope will be in April – the club will move back to Odsal Stadium and your Season Ticket will be valid for the remaining league fixtures.
Q: Why can't I book my seat? I usually sit in the same seat each year.
A: Due to Social Distancing measures, some seats will be unavailable and taken 'out of action' in order to adhere to the guidelines. At this stage, it is not yet clear how many spectators will be allowed inside the ground when the season starts. When this situation becomes clearer, club staff will then be in touch to book your seats however it may be the case that some seats are unavailable throughout the whole of 2021. Seat bookings will be prioritised based on the date of Season Ticket purchase.
Q: Will the club be selling Flexi Passes this year?
A: There are no plans to sell Flexi Passes at this stage due to the uncertainty regarding COVID restrictions when the season starts. This position may change over the coming months.
If you have any further questions regarding your 2021 Season Tickets, please email askthebulls@bradfordbulls.co.uk.